Gasoline vapors are released to the atmosphere every time a fuel tank is filled with gasoline. This happens when filling a large underground storage tank as well as the fuel tank of a motor vehicle. Vermont adopted regulations, referred to as Stage I and Stage II vapor recovery, to require the control of these vapor emissions.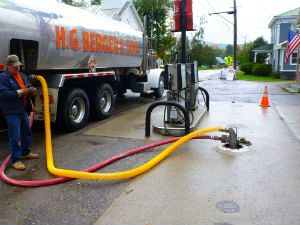 Stage I vapor recovery refers to the capture of gasoline vapors generated when a tank truck delivers gasoline to a storage tank at a gasoline dispensing facility (GDF). As the storage tank is filled, the vapors are transferred to the tank truck, which then carries the vapors to the gasoline distribution terminal. At the terminal, the collected vapors are controlled when the tank truck is refilled, usually by incineration.  Owners of GDFs are required to install and maintain the equipment necessary for Stage I vapor recovery. The equipment generally consists of fittings for gasoline storage tanks to accommodate vapor recovery hoses from the tank truck and pressure vacuum vent valves to minimize the loss of vapors from the storage tank vents.
Stage II vapor recovery refers to the capture of gasoline vapors generated when a motor vehicle fuel tank is filled at a GDF.  Most motor vehicles are now equipped with an onboard refueling vapor recovery system that controls the vapors emitted during refueling. This led to the Legislature passing a law in 2009 that repealed Vermont's Stage II regulation as of January 1, 2013.  
Related Forms and Documents:
For more information please contact Dave Shepard at dave.shepard@vermont.gov or call (802) 272-4088.