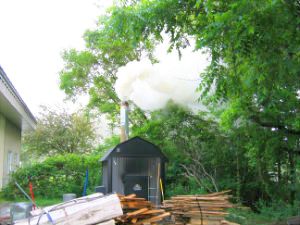 The AQCD receives numerous complaints each year, most of which concern nuisances caused by people open burning trash, or smoke and odors from industries and businesses. In response to these complaints, AQCD or other Vermont Agency of Natural Resources personnel may investigate the complaint or, when appropriate, may refer the complaint to town or city officials. The AQCD must verify the source and severity of the problem prior to taking enforcement actions. The AQCD often seeks voluntary resolution of violations, but serious violations typically result in penalties and/or a requirement to take corrective actions.
Complaints involving individuals and small businesses are often most efficiently handled by local officials such as Health Officers, Fire Wardens, Fire Chiefs, local police, Selectboard members, or by the local solid waste management district. Contact one or more of your local officials to determine if they are able to handle your complaint.
Contacts for Town Health Officers
For guidance regarding illegal burning, visit our Backyard Burning page. If you have a complaint or questions regarding air quality complaints please contact Dave Shepard at dave.shepard@vermont.gov or call (802) 272-4088.  You may make any complaint anonymously. If you wish to be anonymous please utilize the telephone and do not include your name or any contact information when call. If you include your name or any contact information it will become a part of the public record.  Please be aware that complaints – including complainant identification - are public records and thus can be obtained by any member of the public. Additionally, complaints can be submitted anonymously in writing through our Environmental Compliance Division here.