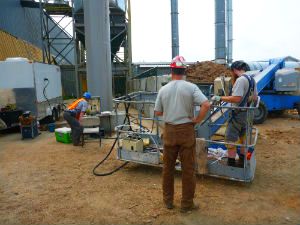 Taking a sample of pollutants from a stack or vent is usually the most direct, and often the only, way of determining if a source's emissions comply with regulations or with the limits set in a permit. Emission, or "stack", testing may be required when a new piece of equipment is installed, or when a new or revised permit is issued. Or, a facility may be required to routinely perform emission testing every two or three years. Stack tests are complex: test equipment and procedures vary widely depending on the pollutants being measured.
Written guidelines regarding the use of stack test procedures and data handling conventions required by the AQCD for compliance testing are available at Source Emission Testing Guidelines. Due to the difficulty of the procedures and expense of the equipment, stack tests are normally performed by a professional consultant who specializes in this type of work and is hired by the facility doing the test. Occasionally, the AQCD conducts research projects to determine the contribution of emissions from a particular type of source to the overall levels of pollution in Vermont. In this case the AQCD hires the testing consultant and the facilities involved in the test are volunteer participants.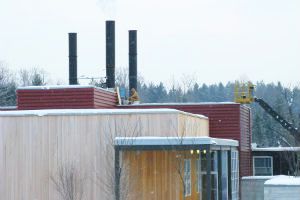 In a typical stack test program, the AQCD first reviews a "pretest report" that lists the equipment and procedures the consultant intends to use to perform the test. The AQCD recommends any changes needed to ensure that the results of the test will be acceptable for comparison to the emission limits. An AQCD staff member will then visit the site during the testing to observe and verify the operation of the equipment being tested and the testing procedures. Finally, a report of the test results is filed with the AQCD, typically within about 30 days after completion of the test.
For more information about emissions testing, please contact Brian Monroe at brian.monroe@vermont.gov or (802) 338-2047.