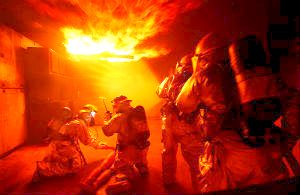 Fire Training Notification Form
NESHAP Demolition Notification Form
Vermont Department of Health Asbestos Program
Burning of solid or liquid fuels or structures for the purpose of bona-fide instruction and training of municipal, volunteer, and industrial firefighters in the methods of fighting fires is permissible when conducted under the direct control and supervision of qualified instructors. Firefighters involved in the training must  be residents of Vermont or affiliated with the mutual aid systems within the state of Vermont. The following steps must be taken prior to conducting a fire training:
The Building Owner must ensure that the building structure has been assessed for the presence of asbestos by a licensed asbestos contractor. Subsequently, any identified asbestos-containing material must be properly removed and disposed of. The Building Owner must then submit (regardless of asbestos being present) the NESHAP Demolition Notification Form  to the Vermont Department of Health Asbestos Program and US EPA at least 10 business days prior to asbestos removal and/or fire training.                                                                                  
The participating Fire Department must complete and submit the Fire Training Notification Form to the Vermont Air Quality and Climate Division at least 14 days prior to the fire training.  The proposed fire training facility must be cleared of all potentially hazardous items to the greatest extent possible.  Additionally, the local Fire Warden and residents within a 1/2 mile of the burn must be notified.
If you have questions or need more information, please contact Brian Monroe at brian.monroe@vermont.gov or (802) 338-2047.