Quick Links
January 2018 - Decision not to pursue rulemaking
FAQ - Updated August 30th 2017
Updates from the Commissioner
Great Hosmer Pond Pre-Rulemaking Fact Sheets
---
Great Hosmer Pond
The Department of Environmental Conservation (DEC) is in the process of considering input from stakeholders about whether and how rulemaking can reduce tensions among users of Great Hosmer Pond.  A draft of the proposed rule can be found here.  Please note that the new language is underlined, and all other provisions are currently in the rule.
History and Existing Uses
Great Hosmer Pond is located in Vermont's Northeast Kingdom in the towns of Craftsbury and Albany.  It is a narrow, medium sized, lake that offers a variety of recreational opportunities including boating, swimming, fishing, paddle sports, and wildlife viewing.  Great Hosmer Pond's surface area is just shy of 150 acres.  It has an average depth of 20 feet and its deepest spot is 57 feet, near the northern end of the lake.  Much of its shoreland is lined with coniferous or mixed forests.  Forested shorelands help prevent erosion and contribute woody material to shallow water habitat. Great Hosmer Pond lies in the Memphremagog watershed.
Recreation and Wildlife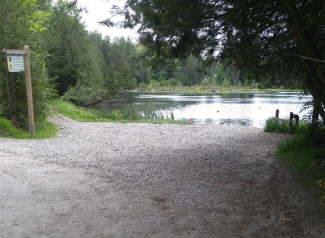 The lake is accessible to boaters and anglers via the Gordon (PeeWee) Wing Access area, at the south-eastern end of the lake.  Motorized boating and boats on trailers are allowed.  The lake is open to fishing year-round and is home to many warmwater fish species including Yellow Perch, Chain Pickerel, Largemouth Bass, Smallmouth Bass, Bullheads and various Panfish species.  Great Hosmer Pond can also be a place for birdwatching.  At least 34 species of birds have been sighted at Great Hosmer Pond.  In 2016, a new Loon nesting site was discovered in the northern section of the lake.  This brings the total number of known breeding pairs on the lake to two.
For more information on fishing at Great Hosmer Pond and at other lakes in Vermont, please visit Vermont Fish and Wildlife's Fishing Access page.
For more information on bird species sighted at Great Hosmer Pond, please visit eBird's Great Hosmer Pond page.
Water Quality
Great Hosmer Pond's waters contain relatively high amounts of phosphorus, causing it to be classified as eutrophic.  Eutrophic lakes are characterized by a high rate of growth of plants and algae.  Water clarity is excellent so the overall water quality is considered good.   Eurasian watermilfoil, an aquatic invasive species, has been found in Great Hosmer Pond.
FAQ
Updates from the Commissioner
---
Links to other sources of useful information on Great Hosmer Pond