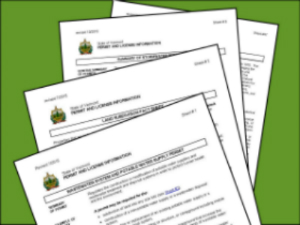 The Environmental Assistance Office (EAO) created the Permit Handbook to help people understand the various permit programs of the State of Vermont. Once a 3-ring binder of information sheets, the Permit Handbook was found in many town and state offices. Although the paper copies are no longer in service, their usefulness lives on in this online version.
The Handbook is now a list of permit information sheets in PDF format. Each sheet includes an up-to-date overview of the applicability, jurisdiction, and other details for each State permit or approval. The information sheets cover most Department of Environmental Conservation permit programs and many other Vermont and federal regulatory programs that may be required for your project or business.
Information sheets include:
examples of regulated activities;
criteria for permitting jurisdiction;
statutory citations for authority and appeals; and
contacts for more information.
Small Business Handbook Sheets
The EAO has also created fact sheets for certain small business sectors. The sheets include the most common required permits and staff contacts for more information. If you need help finding out which permits are required for your project, visit the Permit Navigator for single parcel projects or contact a Community Assistance Specialist for linear, polygon, or multi-parcel projects.
The Permit Handbook can also serve as an educational resource for individuals, groups, or those in public service who want to better understand the different types of permits or other approvals local businesses may be required to have.
Departments of Fish and Wildlife and Forests, Parks & Recreation
Some of the permit or license programs of the Departments of Fish and Wildlife and Forests, Parks & Recreation are not provided in the Permit Handbook. Learn more about these permit and license programs.