The U.S. Environmental Protection Agency awarded the State of Vermont and the Lake Champlain Basin Program approximately $10 million over the last two years to implement the 2016 Lake Champlain Phosphorus Total Maximum Daily Loads (TMDL), which sets phosphorus pollution targets for Vermont segments of Lake Champlain. For the State of Vermont, the Agency of Natural Resources, including Departments of Environmental Conservation, Forest, Parks and Recreation and Fish & Wildlife, and the Agency of Agriculture, Food and Markets, are administering these funds. These funds support projects that will result in reduced phosphorus and sediment loads from developed lands, agricultural lands, and wastewater treatment facilities, and restore wetlands in the Lake Champlain Basin of Vermont. The Department of Environmental Conservation's current and upcoming grant opportunities are listed below. For more information, contact Bethany Sargent.
Current and Upcoming Grant Opportunities

Past Grant Opportunities
---
Current and Upcoming Grant Opportunities
Floodplain Restoration and Functional Assessment
The Vermont Department of Environmental Conservation (DEC) is requesting services to create methodology and maps for the Lake Champlain Basin in Vermont to quantify existing and potential floodplain functions related to water quality, habitats, and flood hazard mitigation. The resulting products are expected to support Act 76 implementation by helping to identify and track priority protection and restoration projects. The results will be made available through a web application accessible to watershed organizations and other natural resources restoration partners, including future Clean Water Service Providers.
Release Date: July 31, 2019
Proposals Due: September 25, 2019, 4:00 pm
Using GSI (Green Stormwater Infrastructure) and Other Technologies to Reduce CSOs (Combined Sewer Overflows)
This project will employ new best management and technological approaches to reduce or improve the quality of stormwater runoff from developed lands that drain into or from combined sewer systems (CSS) areas. Activities for this project will include stormwater treatment practices a designed to treat runoff separated in conjunction with or after CSS separation projects or Sanitary Sewer Overflow (SSO) remediation projects. This project will use technologies such as Smart Data Infrastructure/real time control (RTC) or Hydraulics and Hydrology (H&H) studies to inform RTC, roof disconnection surveys as well as associated green roofs, blue roofs or cisterns/alternate roof drain plumbing.
Design and Construction of Green Stormwater Infrastructure (GSI) at Public Schools in the Lake Champlain Basin in Vermont (Green Schools Initiative)
The State of Vermont is developing a new stormwater general permit that will include sites with three or more acres of impervious surfaces to reduce phosphorus and sediment discharges from developed lands. Over 80 K-12 public schools may be affected and therefore would need to start complying with the permit requirements no later than 2023. This project will issue one or more Requests for Proposals for the assessment, preliminary design, final design and construction of GSI at schools in the Lake Champlain Basin in Vermont that are ready to proceed with meeting the permit requirements.
 
---
Federal Fiscal Year 2018 Projects
Developing Public-Private Partnerships (P3) to Meet the Stormwater General Permit for Parcels with ≥ 3 Impervious Acres
This project is completing stormwater assessments specifically to assist municipalities and private landowners in compliance with the proposed DEC stormwater general permit requirements for three or more impervious acre parcels in the Lake Champlain Basin. The project funds assessments that effectively and economically achieve the water quality redevelopment criteria for the three or more impervious acre parcel(s), as well as maximize treatment on three or more impervious acre parcel(s) of offsite stormwater run-on and/or diversion of offsite runoff.
Technical Assistance, Education and Outreach for Optimization of Municipal Wastewater Treatment Facilities
This project is developing a program to provide technical assistance, based on initial education and outreach, for Municipal Wastewater Treatment Facilities (WWTF) subject to reduced effluent phosphorus limits, with a specific focus on implementing detailed WWTF optimization plans for approximately 3-5 facilities with multiple types of treatment technologies. WWTF optimization offers the potential for innovative solutions to reduce effluent phosphorus loads by adjusting internal operations and process control within the existing treatment works.
Using Green Stormwater Infrastructure (GSI) to Mitigate Combined Sewer Overflows (CSOs) 
This project is constructing green stormwater infrastructure (GSI) for municipalities in the Lake Champlain Basin to reduce polluted runoff and high stormflows from developed lands that drain into combined sewer systems (CSSs) and that contribute to combined sewer overflows (CSOs). GSI to infiltrate stormwater runoff is targeting developed lands draining to CSSs, before runoff enters CSSs, to minimize the risk of CSOs in a cost-effective manner.
Wetland Easements and Restoration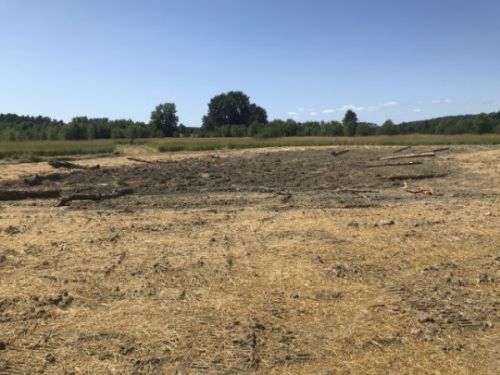 This project is implementing priority wetland restoration and enhancement efforts through easement acquisition and restoration, or restoration of existing conserved lands, to attenuate nonpoint source phosphorus in the Lake Champlain Basin in Vermont. Wetland restoration projects target critical areas where restoration will result in the attenuation of nonpoint source phosphorus, thereby maintaining and improving downstream water quality. Projects may incorporate wetland buffer, river corridor, and floodplain easements and restoration.