See past years member profiles
Lia Ivanick (she/her)
Vermont DEC Lakes and Ponds, Aquatic Invasive Species Specialist
Lia spent most of her life in Syracuse, New York, and moved to Vermont four years ago to pursue a degree in Environmental Sciences and Anthropology at the University of Vermont. Always having an interest in aquatic ecology, Lia now spends her days with the Aquatic Invasive Species (AIS) Team at DEC Lakes and Ponds surveying and harvesting Vermont waterbodies for invasive species, working on an official DEC website launch for information on AIS, participating in the grant approval process, and other miscellaneous bits and pieces that find their way onto the AIS Team's plate. She hopes to spend this next year in Vermont taking in all the new skills and experiences she will get to have, and appreciate being a member of the Vermont community in this new and exciting way.
"I serve because creating a sustainable future for our world seems like one of the best things I can do with the time I have, and lending support to communities of different people who all share a deep appreciation and knowledge of our natural world never fails to inspire me."
---
Alden Dumas
Connecticut River Conservancy, Outreach, Education, and Field Staff Assistant
Born and raised along the Susquehanna River Valley in south central Pennsylvania, Alden has migrated to a new watershed, serving with the Connecticut River Conservancy as an Education, Outreach and Field Staff Assistant. He comes to Vermont after graduating from the George Washington University in the spring of 2022, where he received a Bachelor's in Environmental Studies with a minor in Philosophy. Alden assists CRC with a variety of projects, currently planning riparian buffer plantings for the organization in the upcoming year as well as managing a project focusing on teaching younger students about point and nonpoint source pollution. Pursuing a career in his field of study after graduating was important to Alden, and the strength of community and natural beauty of Vermont made the state seem like the perfect place to serve.
"I serve to dissolve the line we draw between ourselves and nature."
---
Mary Perchlik 
Vermont Natural Resources Council, Ecological Restoration Associate
Mary Perchlik was born and raised in Marshfield, Vermont where she lives to this day. After graduating from Oberlin College in 2021 with a B.A in Environmental Studies, Mary wanted to return to being involved in the environmental issues and opportunities in Vermont, which brought her to ECO AmeriCorps. Mary's first year at the program was spent at the Vermont Department of Environmental Conservation, serving with the Clean Water Initiative Program. Mary returned this year to serve at Vermont Natural Resources Council in Montpelier where she is assisting with the removal of useless dams, planting trees to restore wetlands, and doing public outreach and education for healthy forests, community planning, and water issues. Outside of service, Mary can be found in a canoe, or with her nose in a book. 
"I serve to help build the world I want to live in."
---
Chad Kim
Middlebury Area Land Trust, Education and Public Engagement Specialist
Chad is originally from Dallas, TX, but he has found his most recent home in Middlebury, VT where he is serving at the Middlebury Area Land Trust (MALT) as an ECO AmeriCorps Member and attending his final year at Middlebury College. He has been improving local hiking trails and assisting with an after-school outdoor education program for elementary school students; during the winter, he will help organize MALT's conservation easement files and monitor conserved lands. During his free time, Chad enjoys rollerblading, drawing, dancing, and generally moving his body around while listening to his favorite Australian music group, King Gizzard & The Lizard Wizard. This year, Chad is looking forward to improving his community engagement skills and continuing to learn the ins-and-outs of a of land trust. 
"I serve to inspire others to consider themselves within a greater ecological context and to understand the inherent value of natural systems."
---
Megan Hampton 
NorthWoods Stewardship Center, Assistant Field Coordinator 
Megan Hampton is from Clinton, Connecticut. During the summer, Megan worked on a trail crew at the Stewart B McKinney Wildlife Refuge in Westbrook, Connecticut, which was through the Summer Youth Conservation Corps at NorthWoods Stewardship Center. While working for NorthWoods, Megan learned about the Assistant Field Coordinator AmeriCorps position at NorthWoods and decided to apply to be a part of AmeriCorps. So far, Megan has participated in a couple of really exciting projects at NorthWoods during her AmeriCorps term. Megan has done a lot of trail maintenance on different trails in Vermont and has gotten the opportunity to camp at or near the project sites. Megan has already learned so much from their service experience and is so excited for what is to come for the remainder of the service year!
"I serve in order to learn the vast knowledge that NorthWoods is so graciously passing down to me and to make a difference in the world around me."
---
Gabriella Stevens
Addison County Solid Waste Management District, Waste Diversion Planning Assistant
Gabriella is from Long Island, NY originally and has spent the past two years living in Atlanta, Georgia. She is currently serving at the Addison County Solid Waste Management District In Middlebury as a Waste Diversion Planning Assistant. She is studying part time for her Masters in Sustainability Management and Policy. Before ECO, she worked at a recycling non-profit and studied product development. During her service year, Gabriella would like to focus on programs which keep textiles and consumer goods out of landfills, and conduct outreach on extended producer responsibility in Vermont. When she isn't serving, Gabriella likes cooking, sewing, and doing crafts, while listening to her favorite podcasts.
"I serve to keep usable materials out of landfills and to help build a more circular economy." 
---
Alexandria McKearin
VT DEC - ECO AmeriCorps, Team Leader and Communications Specialist
Alex is originally from Kinderhook, NY and has spent the past four years pursuing a B.S. degree in Biomedical Science with minors in Chemistry and Gender and Women's Studies from Plattsburgh State where she graduated this past May. After realizing a deep passion for the outdoors thanks to the Adirondacks, she shifted her focus towards environmental justice with the mission of diversifying green spaces and improving accessibility. As Team Leader she assists the program with organizing events and training, communication and outreach, providing member support, and visiting host sites. Alex also leads the group's Diversity, Equity, Inclusion, and Justice Committee and is a part of the DEC social media team. In her free time, you can find her outside rock climbing, running, and snowboarding or inside creating art/music, playing chess, and writing.
"I serve to bridge the adventure gap and return the joys of nature to historically marginalized communities."
---
Parker Eversoll
Friends of Northern Lake Champlain, Assistant Project Coordinator
Parker is serving as the Assistant Project Coordinator with the Friends of Northern Lake Champlain.  Originally from Madison, WI, Parker studied geology and environmental studies at the University of Wisconsin. After graduating from college in 2020, Parker moved to Albany, NY to work as a geologist for an environmental consulting firm and most recently as the Summer Land Steward for the Mohawk Hudson Land Conservancy. He is excited to get involved with efforts to reduce non-point source pollution and phosphorus loading on lands within the northern Lake Champlain watershed through various educational programs and project implementation. When Parker is not serving, he likes to spend his time skiing, mountain biking, hiking, and any other activity that gets him outside with his dog and partner. 
"I serve to create change through meaningful interactions that uplift communities and the environment."
---
Annika Fuller
Vermont Agency of Agriculture, Agriculture Water Quality Outreach & BMP Verification Specialist
Annika F. came from Kansas City, Missouri to Vermont after hearing about the great experiences AmeriCorps provided to some of her friends. Her position with the Vermont Agency of Agriculture is a slight transition from her past experiences with social justice non-profits. Annika's projects with the agency include tracking farmer practices, understanding what types of farms are accessing the agency's grants, and helping farmers gain clarity around the different grant programs. Through her year of service, Annika hopes to gain a greater appreciation and understanding of where our food comes from and the hard-working people behind it.
"I serve because to care about the environment is to care about others."
---
Josephine Kahn
Montpelier Parks, Trees & Conservation, Montpelier Parks and Watershed Steward
Josie is originally from New York City. She is excited to learn many different skills at Montpelier Parks and Trees throughout her year of service including small engine maintenance, climbing, and community outreach. She also hopes to learn more about making green spaces accessible to all. Outside of service Josie loves to hike and be outside as much as possible!
"I serve to maintain green spaces for the community."
---
Annika Brinkley
Shelburne Farms, Teen Program Education and Outreach Assistant
Annika is from Graham, Washington and is currently serving at Shelburne Farms. She graduated from Western Washington University with an Environmental Science degree and then moved to Connecticut to serve with AmeriCorps at New England Science and Sailing. Currently, she spends the majority of her service time with Burlington City and Lake Semester, a place-based program for students at Burlington High School using the city as a classroom. She mentors high school students and helps them develop projects related to sustainability and city systems. Being new to Vermont, she hopes to learn alongside the students about sustainable food and natural systems and how humans can thrive in relationship with them. When not serving, she enjoys walking long distances, cooking with squash, and rock climbing.
"I serve to connect myself and others to thriving communities."
---
Rachel McKimmy
DEC - Clean Water Initiative Program, Clean Water Communications Specialist
Rachel was born in Brunswick, Germany and grew up in the Pacific Northwest on her dad's off-the-grid farm. In 2021 she graduated from the University of Michigan with a Bachelor of Science in Environmental Studies and minors in Creative Writing and Earth Sciences, and shortly thereafter transplanted herself yet again, this time to the soil of Vermont. She is now serving at the Clean Water Initiative Program in the Department of Environmental Conservaiton as Clean Water Communications Specialist. Day to day, she organizes public outreach for the program. When she's not serving you will mostly likely find her reading a book, writing, or hanging out with her dog, Curly.
"I serve to be a small part of making positive change in the world."
---
Sarah Lunn
Missisquoi River Basin Association and the Upper Missisquoi and Trout Rivers Wild and Scenic Committee, Education and Outreach Coordinator
Sarah is originally from Georgia, VT, and currently serves as the Education and Outreach Coordinator for both the Missisquoi River Basin Association (MRBA) and the Upper Missisquoi and Trout River (UMATR) Wild and Scenic Committee! Her service focuses on improving the water quality of the Missisquoi basin waters through ecological restoration with native plantings on riverbanks, educating and outreach with the local community, and increasing access for recreation. Before joining the ECO program, Sarah received her Bachelor's degree in Biology from the University of New Hampshire in 2020. She began serving at MRBA and UMATR in the ECO AmeriCorps 2021-2022 cohort, and was ecstatic to continue her work for another year. She is excited to be back near the community she grew up in and to continue to preserve Vermont's beautiful outdoor spaces. While not serving you can find her skiing, hiking, or anywhere outside with her dog Pearl!
"I serve because I want to make a positive impact on our environment, outdoor spaces, and community."
---
Audrey Welsh
Middlebury Area Land Trust, Education and Public Engagement Specialist
Audrey is a student at Middlebury College studying Environmental Chemistry and is excited to be serving at the Middlebury Area Land Trust (MALT) this year! She grew up on the coast of Maine and is loving being closer to the mountains but misses being able to jump in the ocean spontaneously. In her free time and when avoiding homework, Audrey can be found rehearsing with a dance troupe on campus, hiking, skiing, or rock climbing. At MALT, she is enjoying serving in outdoor education and growing her knowledge outside of academics. She is having fun improving her lesson planning, project planning, and tree climbing skills. 
"I serve to give back to the environment that so strongly influenced who I am today."
---
Jay Mullen  
DEC - Watershed Planning Program, Communications Specialist
Jay was born in Manhattan and split his childhood in half by moving from Queens to Queensbury, NY in the Adirondacks in 2006. He is serving as a Communications Specialist for the Watershed Planning Program in the Water Investment Division of the VTDEC. During his service Jay will be mainly supporting communications projects for Clean Water Service Providers, assisting with communications outreach related to Act 76 and developing a communications plan for the WPP. Prior to serving with ECO AmeriCorps, Jay graduated with a Media and Communications degree with a concentration in Journalism through Castleton University in 2020. He then went on to work as a local news reporter for the Whitehall Times and The Post-Star, covering an array of topics, including local government, human interest stories and sports during his tenures. Outside of service Jay enjoys playing shows with his band, being active outdoors with hiking or playing sports, playing video games and spending time with his family and friends. 
"I serve because educating people about their impacts on water quality is an important step in becoming a conscious citizen of the watershed." 
---
Zach Roberts
Addison County Regional Planning Commission, Water Quality Planner
Zach is originally from rural central Virginia, between the Bay and the Blue Ridge, and is serving as the Water Quality Planner for Addison County Regional Planning Commission. Among the many things he hopes to have a hand in, he will be helping to identify and implement water quality projects in the Otter Creek Basin to reduce phosphorus runoff into Lake Champlain, as well as finding priority areas for riparian buffer planting using GIS data. Zach hopes his service will provide tangible benefits to the health of the watershed and the organisms who live in it. Before moving up north, Zach graduated from the College of William & Mary with a BA in Government and Environmental Policy and spent much of his childhood outdoors in any woods he could find. He also takes a particular interest in clean energy and energy resilience, especially solar. In his free time, you can find him in the kitchen cooking or baking, in the woods looking at birds, or in a Middlebury cafe reading yet another book.
"I serve because we are as much a part of the ecosystem as any other species and should protect it as such."
---

Rose West
Hildene, The Lincoln Family Home, Forest Steward 
Rose is locally grown in southern Vermont and excited to be serving with Hildene, the Lincoln Family Home, a nonprofit she was first introduced to in elementary school! She recently received her degree in Conservation Biology from St. Lawrence University; whereafter she was introduced to AmeriCorps through a position with the Great Basin Institute performing rare and invasive plant management in the deserts of Lake Mead National Recreation Area. Back home with Hildene she will be serving on three primary projects: implementation of a woody plant nursery, inventorying trails, and creating a trail nature walk. During the warmer weather, one can find her in the field looking for native seeds of target species to propagate for restoration. Biodiversity, ecosystem health, and land management are all very important to her. Always feel free to ask her about any bird, bug, or botanical specimen you may come across- she would be delighted to identify it with you! When not serving, she continues to assist at Mighty Food Farm, a local organic farm.  
"I serve to inspire concern and care for Vermont's ecosystems; AmeriCorps has allowed me to explore my interests, take autonomous action, and utilize my passion for conservation to connect with and contribute to my community that is dear to me."
---

Dea Devlin   
Northwest Regional Planning Commission, Assistant Water Quality Program Coordinator
Originally hailing from Brooklyn, NY, Dea now serves with ECO AmeriCorps for a second term as the Assistant Water Quality Program Coordinator at the Northwest Regional Planning Commission located in St. Albans City, Vermont. At the NRPC, Dea assists in developing, implementing, and maintaining projects relating to water quality, wastewater and brownfields for the Franklin and Grand Isle Counties. Dea obtained her degree in Philosophy and Environmental Studies at Loyola University New Orleans in 2019 and spent several months volunteering throughout Ecuador before joining the ECO team. Dea is excited to see through projects that she started working on last year. When Dea is not serving, you can find her cooking, hiking, teaching swim, or at the nearest swimming hole.
"I serve to make life better for all living things."​
---
Brian Caffrey
Northwest Regional Planning Commission, Assistant Climate and Energy Planner
Brian is from upstate New York, and recently graduated from the University of Vermont with a B.A in environmental economics before joining AmeriCorps. He is currently collaborating with the Northwest Regional Planning Commission to update their regional climate and energy plan, implement weatherization projects, and perform community outreach. They also hope to open the first thrift store in St. Albins this year. For this next year Brian hopes to learn as well as make a feasible difference in the community he serves. He sees being able to work alongside the community and environment as a unique opportunity, and that it offers great diversity in his work. In his free time he enjoys skiing and fishing, and exploring the great state of Vermont.
"I serve to shift the paradigm towards a just, and sustainable future."
---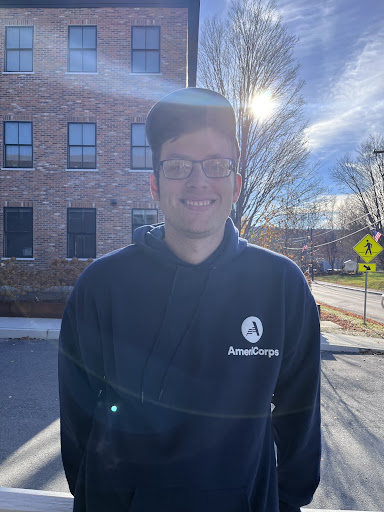 Mike Dickhaut
Vermont Land Trust, Planning and Assessment Assistant
Mike was born and raised in South Burlington, Vermont. He graduated from UVM in the spring of 2021 with a degree in environmental sciences and worked in the UVM forestry lab as a forestry technician during the summer of 2022. After graduation, he was job searching for environmental careers when he first came across a listing for an ECO AmeriCorps position. At that point it was too late into the season to apply, but he was able to register next spring after speaking with the wonderful presenters at the ECO AmeriCorps table in the UVM career fair. The primary projects he will be leading are restoration tree planting projects on land conserved by VLT. This includes creating planting plans, reaching out to partners for funding, working with land owners, and running the day of planting. His hope for the year is to learn a lot of practical environmental restoration work that he can use in my future career. Outside of service Mike enjoys hiking and camping and loves to cook and bake. He also enjoys hanging out with friends online, chatting, and playing games.
"I serve to gain the experience I will use for the rest of my environmental career."
---

Mel Auffredou
Vermont DEC-Monitoring Assessment and Planning Program, Environmental Technician
Mel is from the Adirondacks in Upstate New York and is currently serving as Environmental Technician with the Monitoring and Assessment Program in the Watershed Management Division of the VTDEC. She spends most of her time either in the field sampling rivers and lakes, in the laboratory processing bug samples, or coordinating the community science LaRosa Partnership Program. Mel served a quarter ECO term in Summer 2021 as a Riparian Lands and Water Steward at Northwoods Stewardship Center. She is currently pursuing a Masters in Environmental Sciences and Policy at Johns Hopkins University and is particularly interested in climate anthropology, environmental justice, and climate adaptation and resilience.
"I serve because large-scale environmental issues require local, community-based solutions."
---
Dana Welch
NorthWoods Stewardship Center, Northern Woods and Waters Steward
Dana joins us after serving with the Green Mountain Club as the AmeriCorps Stewardship Assistant. His day-to-day at NWSC is filled with various tasks from erosion control projects such as open-top culvert or infiltration step installation, tree planting for riparian floodplain forest restoration, native woody seed collection for hydroseeding projects, or a wide variety of other cool conservation tasks. Before serving with AmeriCorps, Dana received an Associate of Science in Environmental Science from the Community College of Vermont, He is currently completing a B.S. in Environmental Science with a concentration in Natural Resources and Conservation from Southern New Hampshire University. Dana originally hails from Idaho and moved to Vermont with his family in 2015. He enjoys all aspects of the outdoors and loves taking his kids on adventures around the region. 
"I serve because I want to conserve nature for my children and their children"
---
Jamina Shupack 
Rich Earth Institute, Research Associate 
Jamina drove out from Oregon to join the team at Rich Earth Institute as a research assistant. Beyond making as many pee puns as possible, she has been collaborating on outreach projects as well as getting involved with the community scale urine nutrient reclamation program. Jamina holds a Bachelors in Environmental Science with a minor in Biology from the University of Oregon. She comes to the world of circular sanitation after 12 years as an educator. In her spare time, she can often be found working on a sewing project, cooking for her community, embarking on a bike tour, or swimming in the closest body of water.
"I serve to be a part of a team focused on innovative and hopeful solutions regarding turning our "waste" into a resource."
---
Emalee Garboski
Vermont Cooperative for Practice Improvement & Innovation (VCPI), Environmental Mental Health Education and Outreach Coordinator
Emalee is from southern New Hampshire originally, but moved to central Vermont in 2020. She knew of AmeriCorps for a few years now, but after trying some different careers post-grad, she realized that she wanted to do something more meaningful. She immediately thought about an opportunity with AmeriCorps, and the rest is history. Emalee graduated from Saint Michael's College in Vermont in 2019 with a dual major in anthropology and environmental studies. After that, the Pandemic led her to doing a few different jobs, with the last role being a business loan processor at a local credit union. Host site projects include: evaluating eco-anxiety levels and environmental mental health (EMH) needs in the state of Vermont; establishing a resource hub for VCPI member on EMH and eco-anxiety; and hosting events throughout the year to bring awareness to the importance of environmental mental health, and what role the environment plays on our overall well-being. She is passionate about her crazy family (2 dogs, 2 cats, 1 husband), trying amazing and local foods, and making good memories with loved ones. My hobbies are photography, pottery, cooking, and traveling. Emalee hopes to make it through the end of this service year with a set of new skills, fond memories, and continuing friendships that they can look back on and be grateful for. She hopes for the service year to challenge her to try new things while enjoying herself and the work that she cares about.
"I serve to inspire others to consider themselves within a greater ecological context and to understand the inherent value of natural systems."
---

Hanson Menzies 
Forest Ecosystem Monitoring Cooperative, Monitoring and Outreach Specialist
Hanson is an ECO AmeriCorps member serving with FEMC as a Monitoring and Outreach Specialist. He will be assisting with the forest health monitoring program, maintaining the meteorological and air quality stations, and assisting with other exciting projects that FEMC is doing. Since graduating in 2020 with a degree in Biology he has led crews restoring the Mojave desert, and improving water quality in Vermont.
"I serve because protecting forests is important for future generations of all species."
---
Gretchen Saverson
Rich Earth Institute, Research Assistant
Gretchen is serving as a research assistant at the Rich Earth Institute in Brattleboro, VT, where she delights in alchemizing waste (pee) into resource (fertilizer). She is investigating methods of urine fermentation that may be useful to fertilizer application as well as growing green things to eat in the urine and worm-fed vermiponics system on site. Since graduating from the University of Vermont in 2021 with a BS in environmental sciences, she has followed her interest in sustainability to various places: farming in western Massachusetts, researching effects of mycorrhizal fungi in blueberry cultivation, monitoring wetland health in Nevada and California. She entered the world of eco-sanitation while installing and maintaining composting toilets throughout Massachusetts, and thinks she may have fallen down the toilet for good.
"I serve to align human ways of life into circular systems of abundance and reciprocity."
---