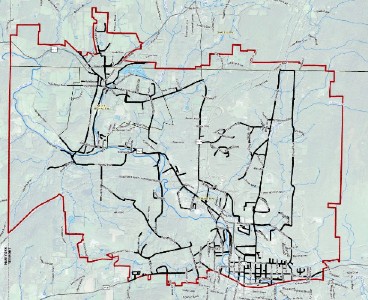 The State of Vermont Agency of Natural Resources (ANR) is proposing to reclassify groundwater from a Class III to a Class IV designation for an area[SJ1]  located in the Towns of Bennington and Shaftsbury and the Village of North Bennington. A Class IV designation means that that at least a portion of the underlying groundwater, is not suitable for drinking water due to the presence of per- and polyfluoroalkyl substances (PFAS) in groundwater.
This website provides information related to this proposed reclassification, including the draft reclassification order, the draft petition, the reclassification map, documents supporting the draft order and petition, a fact sheet/FAQ, and links to the 2019 Saint-Gobain Settlement Agreement.
Reclassifying groundwater in the proposed area to a Class IV will protect people living and working in Bennington by providing restrictions and requirements for installing new wells within the proposed reclassification. These requirements include specifications for well construction, sampling and long-term monitoring, and treatment (if needed). This reclassification also serves as a formal notification to landowners, well drillers, and permitting agencies that at least some portion of the underlying groundwater is or may be contaminated by per- and poly-fluoroalkyl substances (PFAS) and not suitable for drinking water.  
Based on the comments that we have received to date, ANR plans to revise the reclassification order to reflect the fact that within the proposed reclassification area there are existing potable water supply wells (that is, not having any detectable levels of PFAS or levels below the applicable standards), and it is possible that new potable water supplies can be installed given that several wells have been installed since PFAS in groundwater was discovered in 2016 and those wells are currently providing potable water.
ANR encourages the public to comment on the reclassification process. The public comment period is thirty days and ends on May 28, 2021. Comments can be submitted on the Environmental Notice Bulletin (ENB), or emailed or mailed to John Schmeltzer or Richard Spiese (see contact information below).
Another virtual meeting is scheduled for 6:00 P.M. on May 11, 2021.  Details on how to attend this meeting are provided on this information sheet.
Once a final decision on the petition is reached, ANR will put the final decision and responses to comments on the ENB and our website.
The petition and draft order are linked to below, along with documentation supporting both documents. Copies of the petition and draft order are also available at the Bennington Town Offices, located at 205 South Street, Bennington VT 05201.
John Schmeltzer
1 National Life Dr-Davis 1
Montpelier VT 05620
john.schmeltzer@vermont.gov
Richard Spiese
1 National Life Dr-Davis
Montpelier VT 05620
richard.spiese@vermont.gov
---
Proposed Revisions to Finding of Fact and Formal Reclassification Order - May 12, 2021
Linked to above are proposed revisions to the finding of facts and formal reclassification order.  These revisions are in response to comments from the community.  The proposed revisions:
Clarify that the Class IV designation does not apply to existing water supplies that continue to test below the regulatory standard for PFAS.  This means that these wells are potable.
Specify the criteria on which a water supply that has or has had PFAS will be considered potable in the future, meaning that the Class IV designation would no longer apply to this water supply. 
Clarify the conditions on which newly permitted wells are considered a potable water supply, meaning the Class IV designation does not apply.     
Please provide your comments on the proposed reclassification by May 28, 2021.
Fact Sheet/FAQ - On proposed reclassification in Bennington area
More information about Groundwater Reclassification - including general fact sheet on Class IV Groundwater Reclassification
Draft Findings of Fact and Reclassification Order
Draft Groundwater Reclassification Petition
*Petition Text
*Appendix A - Reclassification Area Map Book
*Appendix C - Well Design Standards
*Appendix D - Public Notice
*Tables
*Figures/Maps
--Figure 1 CAA Location
--Figure 2 Operable Units
--Figure 3 CAA and Groundwater Reclassification Area
--Figure 4 PFAS in Groundwater
--Figure 5 Drinking Water Wells
--Figure 6 Groundwater Reclassification Area
--Figure 7 Adjacent Properties to Groundwater Reclassification Area
2019 Consent Order - Settlement agreement between Saint-Gobain Performance Plastics and the State.
Public Meeting Information
A virtual public meeting was held on May 11, 2021.
May 11, 2021 Presentation Slides
A public meeting was held on Thursday, March 4, 2021 at 6:00 pm - the video and presentation information are now available.
A presentation was provided at the April 12, 2021 Bennington Selectboard meeting.  Presentation information is available.
Selectboard Presentation Slides
Submitting Comments
*Environmental Notice Bulletin - comments may be submitted through the Reclassification posting
*Email directly to either John Schmeltzer or Richard Spiese
*Mail to John Schmeltzer or Richard Spiese, 1 National Life Drive - Davis 1, Montpelier, VT 05620
Other PFAS Information for Southwestern Vermont - Further information is available in other sections of the DEC web site.