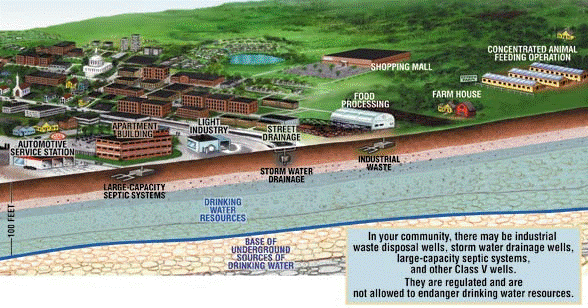 Click here to see the UIC PROGRAM HISTORY 
Updated Fact Sheet (5/2016): Washwater Discharges from Vehicle Washing
Discharges to Underground Injection Wells (Class V Wells) - Regulatory Spreadsheet
---
ATTENTION
FLOOR DRAINS IN VEHICLE SERVICE BAYS, THAT LEAD TO AN INJECTION WELL (LEACHFIELD, DRYWELL, PIT, ETC) OR THAT DISCHARGE TO THE GROUND SURFACE (A PRACTICE KNOWN AS "DAYLIGHTING") ARE PROHIBITED AND MUST BE CLOSED.
Floor drains that discharge fluid wastes to the soil or grounwater (leachfield, drywell, etc.) by businesses are regulated as Underground Injection Control (UIC) Wells. Floor drains that receive waste from the location within a facility where high risk activities occur (vehicular repair or maintenance activities; gas or diesel engine repair, vehicle salvage yards, hazardous material use and storage, dry cleaning, photofinishing, etc.) and discharge to soil or groundwater pose a risk to soil and groundwater quality and could contaminate a nearby water supply well. Accordingly, the UIC Program has amended its Rule (adopted October 29, 2014) and these floor drains which discharge to soil or groundwater are prohibited and must therefore be "closed". "Closure" options include plugging with concrete, connecting to a holding tank or connecting to municipal sewer service. Links to additional information are provided below.
Once your floor drain is "closed" please complete the Injection Well Closure Form for High Risk Activities provided below and mail it to the address included on the form. We suggest that you maintain a copy of the closure form for your own records to provide in the event of any sale or transfer of the property in the future.
Floor Drain Closure Resources
---
HOW TO APPLY FOR A PERMIT
---
---
---
GUIDANCE DOCUMENTS
---
RULES
---
ARCHIVED RULES
---
ADDITIONAL LINKS
---
CONTACTS:  Nathan Kie  nathan.kie@vermont.gov  802-522-3008