ECO Ambassadors are notable alumni of the ECO AmeriCorps program who believe in our mission and role in striving toward a better Vermont. An ECO ambassador is one who found both joy and success during their time serving. They make it a priority to aide current members in their positions and bolster the continuation of positive experience in and after ECO.
---
Catie Bartone
ECO AmeriCorps 2018-2019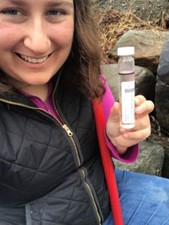 Catie Bartone received a Bachelor of Science in Environmental Engineering with a concentration in Water Resources and a minor in Environmental Studies in 2016. Catie worked for a few small environmental engineering firms in New York and Vermont before finding ECO AmeriCorps in 2018.
Catie served as an ECO AmeriCorps member during the 2018-2019 service year as the Assistant Water Quality Program Coordinator for the Franklin Watershed Committee and the Northwest Regional Planning Commission. Catie worked on water quality challenges in Lake Carmi, Vermont's "Lake in Crisis". Catie served on a high-profile aeration bid committee to select an $1.2M aeration system fit to assist the lake in combatting the widespread cyanobacteria blooms during the summers. EverBlue Lakes, a small firm in Michigan, was selected to implement this aeration system, one of the largest aeration systems in the country to date.
Catie witnessed community conflict, resolution, and collaboration between state agency partners and community members throughout her year with ECO AmeriCorps.
Catie was inspired by her time at ECO AmeriCorps to work for the Department of Environmental Conservation to continue this collaborative work between state agency partners and the community.
Catie took on a role with the Drinking Water and Groundwater Protection Division in August 2019 to implement the most stringent standard of lead in drinking water in schools and childcares in the country, Act 66 of 2019. Catie serves as an environmental analyst under the Compliance and Support Services Section, as well as the technical assistance provider for the remediation of lead in schools and childcares program, in addition to serving as a liaison between the Vermont Department of Environmental Conservation, the Vermont Department of Health, and the Vermont Department of Education. Catie is also active within the Department's Environmental Justice Team, serving on the team as well as on the Internal Engagement Committee.
Catie credits ECO AmeriCorps for giving her a perspective outside of her strict STEM background, furthering her career and network, providing resources for her to succeed, and pushing her outside her comfort zone into infinite growth, and wants to return the favor and further the mission of ECO AmeriCorps as an ambassador.
Contact: Catharine.Bartone@vermont.gov
Christopher A. Gaynor, PSM - aka "Gaynor"
ECO AmeriCorps 2018-2019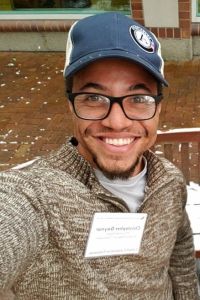 Gaynor is a former Vermont-based ECO AmeriCorp member, continuing to serve as an environmental and social justice advocate for New England and the Northeast. By being involved in grassroots organizing, he focused on bringing awareness to the parallels between community and global issues. Being of Jamaican and European ancestry, he finds that the lens of a mixed-race experience enhances his appreciation for diverse cultural perspectives. Unable to neatly fall into any given category, he prides himself in being able to integrate through emotional, human connection.
Gaynor received his undergraduate degree in Agricultural and Biological Engineering from the University of Florida. With this technical expertise and a desire to further understand the interconnections of nature to our rapidly growing society, Gaynor applied and was selected to serve in Tanzania as a Crop Extension Volunteer in the Peace Corps. He had the privilege to live in a rural village and appreciate the value of relationship with the land. He came to recognize that as climate change causes more extreme conditions, unsupported individuals will be displaced, isolated, and even radicalized; forced to seek unconventional measures to be seen or heard on whatever available platform. It was while serving in the Peace Corps that Gaynor came to fully appreciate the value of community.
These experiences motivated Gaynor to pursue a Master's in Sustainable Development and Climate Change at Antioch University New England, where he once co-led the Citizen Climate Lobby Chapter, promoting carbon pricing and a just transition within the energy sector. Gaynor continued to participate in the local communities of Southeastern Vermont as an AmeriCorps member, serving as a Water Quality Planning Associate and a Restorative Justice Diversionary Panelist. It was through this time with AmeriCorps that Gaynor started to bring those lived experiences and values into a space where he was able to grow in continuing to understand the interconnected workings of community, people, and the environment. After living in both communities abroad and domestic – serving communities of varying affluence – in becoming an AmeriCorps member, he started to question what underlying conditions led to the disenfranchisement of communities and what part we truly play in implementing effective, positive change.
Contact: chrisag48@gmail.com / (c:) (954) 851-3770
Jenevra Wetmore
ECO AmeriCorps 2018-2019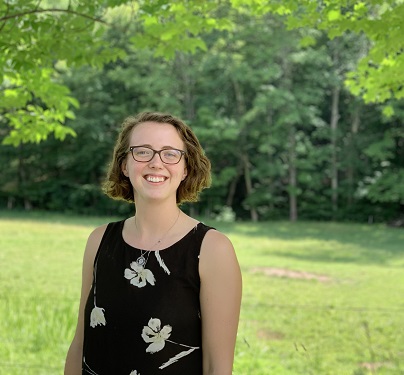 Jenevra (they/them, she/her) is originally from a small sheep and maple sugaring farm in Hartland, VT. She received a Bachelor of Environmental Studies and Nonfiction Writing from Middlebury College in 2017. After graduating, she travelled and worked on farms across New Zealand, coming back to her home state of Vermont to start Eco Americorps.
Jenevra served with the Missisquoi River Basin Association and Upper Missisquoi and Trout Rivers Wild and Scenic Committee in northern Vermont. As part of her service, she wrote and received multiple grants for topics including: invasive species mapping along the Missisquoi River, water resources education, and outreach to landowners and farmers. She also helped coordinate the first Wild and Scenic Sojourn–a weeklong canoe and kayak trip along the entire 46.1 miles of Wild and Scenic river. Despite a lack of canoe experience, Jenevra canoed the entire trip with the help of local experts and recorded the adventure on go pro cameras.
After serving a year with Eco, Jenevra was awarded the Vermont Law School Environmental Scholarship, which is intended to support outstanding individuals who demonstrate environmental and public interest involvement and who can effect change. This scholarship awarded her full tuition to complete her Master of Environmental Law and Policy (MELP) at Vermont Law School.
Jenevra currently works for Sustainable Woodstock, a nonprofit based in Woodstock, VT and covering the Upper Valley. As part of this role, she coordinates the monthly Green Drinks series where like-minded "green" individuals gather to share new ideas and projects. She also plans the Climate Change & Sustainability Film Series, which shows a monthly film related to climate that is free of charge to the public. Additionally, she coordinates the Sustainable Woodstock Energy Action and Transportation Group (SWEAT), which is the town of Woodstock's local energy committee. Keep an eye out for her regular articles on issues of sustainability in the Vermont Standard! Jenevra also works for the Vermont Foodbank, where she coordinates VeggieVanGo events for the northern half of the state, distributing fresh fruits and veggies to those in need.
Jenevra is thankful to Eco Americorps and her service site for showing her that small community action can have an enormous impact on the environment and on the overall sustainability and happiness of a community.
Tommy Ott
ECO AmeriCorps 2018-2019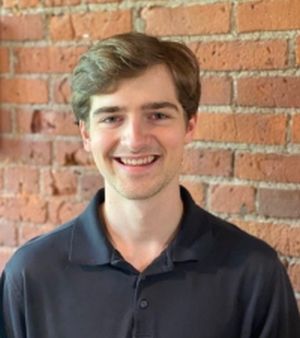 Tommy is interested in technical solutions to environmental problems. He is a graduate of the University of Vermont, where he earned a B.S. in Environmental Sciences with a minor in Geospatial Technologies. He joined ECO AmeriCorps following graduation, serving at the Vermont Land Trust (VLT) as a Planning & Assessment Assistant. His ECO service term was a significant personal and professional growth experience for him. At VLT he was able to help his host organization fulfill its mission of protecting and stewarding Vermont's working landscape. During his service he was able to help assess and fund new conservation projects as well as monitor and restore existing conserved lands.
Following his service term, he split his time between the UVM Spatial Analysis Lab and the Vermont DEC's Drinking Water & Groundwater Protection Division. At the Spatial Analysis Lab, he helped the team digitize and edit high-accuracy land cover datasets. At the DEC, he aided in ensuring the regulatory compliance of Vermont's public drinking water systems.
Currently, Tommy works as a GIS Technician at Watershed Consulting Associates in Burlington, VT. Watershed Consulting specializes in stormwater project design, focusing on nature-based solutions to water quality challenges. He helps meet the geospatial needs of the team, which include cartography, precision GPS survey, and hydrologic model preparation. As an FAA Part 107 certified sUAS pilot, he's also established Watershed's drone capabilities.
Tommy's service experience with ECO AmeriCorps showed him the power of driving your efforts with a clear mission. He owes the success of his service term to the people he learned from, be them his fellow ECO members and program leaders, his supervisor and other staff at his host organization, farmers and landowners, or other members of Vermont communities.