---
NOTICE!
The 2017 Vermont Stormwater Management Manual (VSMM) became effective on July 1, 2017. Applications using the 2002 VSMM and forms received after 4:30 on June 30, 2017 will be returned. Projects submitted on or after July 1, 2017 will be subject to the 2017 VSMM and new application materials, available below. Processing times for permits may increase during this transition.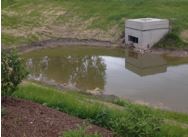 Each new application shall meet all applicable criteria for water quality, groundwater recharge, channel protection, overbank flood protection, and extreme flood control as outlined in  the  2017 Vermont Stormwater Management Manual (VSMM). 
The Vermont State Stormwater Discharge Permits are based on the following Stormwater Management Rules. Please refer to these documents as needed. 
All permit applications must be submitted on a CD/DVD by mail. Fee payments must be by check, payable to State of Vermont. Application submittals will not be accepted via email or through external ftp sites. Unless full scale paper copies of site plans are specifically requested by the Stormwater Program, electronic versions of site plans are preferred.
An application will be considered administratively incomplete and will not proceed onto technical review unless all of the items listed on the NOI form, and all of the required worksheets for any STP or waivers listed are included as detailed on the Standards Compliance Workbook .  Application forms and worksheets are updated as necessary. They must be downloaded from this website each time you submit a new application. Submitted applications using out-of-date forms may be rejected.
Application Format
A complete application is comprised of all the applicable application materials and a check for the applicable fees. These materials should be organized into 6 separate documents, saved individually as PDFs. The six PDFs should be named as shown below:
"NOI"
"Attachment 1: Narrative"
"Attachment 2: Workbook"
"Attachment 3: Worksheets"
"Attachment 4: Modeling"
"Attachment 5: Plans"
Please refer to the Application Requirements for Operational Permits document for more detailed information on application submittals.