April 25, 2023
PRESS RELEASE
For Immediate Release – April 25, 2023
Contact:
Dam Safety Program, Water Investment Division
Department of Environmental Conservation
ANR.DamSafety@vermont.gov
Vermont Dam Inventory Now Open to Members of the Public
Montpelier, VT – The Dam Safety Program of the Department of Environmental Conservation (DEC) has announced the public launch of the new online Vermont Dam Inventory. The upgraded, publicly-available inventory of approximately 1,200 of Vermont's dams provides data to identify dams for maintenance, upgrades, replacement, or removal and ensure the resilience of the state's dams into the future.
"For over 20 years, the Vermont Dam Inventory has provided our Department and partners with key spatial, structural, historic, and regulatory data," said DEC Commissioner John Beling. "This critical data is now available for anyone interested in learning more about Vermont dams, including dam owners, engineers, conservation groups, and municipalities."
There is no login required to view the inventory. To get started, search using the fields on the home page. Records include the following:
General Structure Data

Hydrology and Hydraulics

Inspection and Condition

Dam Status

Owner(s) Names

Emergency Action Plans and Reports
"Public access to the updated inventory will help our efforts to improve the quality of the data and functionality of the platform," said Dam Safety Engineer Ben Green. "The DEC Dam Safety Program strives to make the data as complete and accurate as possible."
The data available includes the most up-to-date information about dams that are regularly inspected, including 418 dams of low, significant, and high hazard potential.
Members of the public are welcome to report incorrect or outdated information to ANR.DamSafety@vermont.gov. Please make sure requests are clear, complete, and contain any supporting information needed to make a correction.
To learn about dams, in general, visit the Dams 101 webpage on the Association of State Dam Safety Officials website.
###
The Department of Environmental Conservation is responsible for protecting Vermont's natural resources and safeguarding human health for the benefit of this and future generations. Visit dec.vermont.gov and follow the Department of Environmental Conservation on Facebook and Instagram.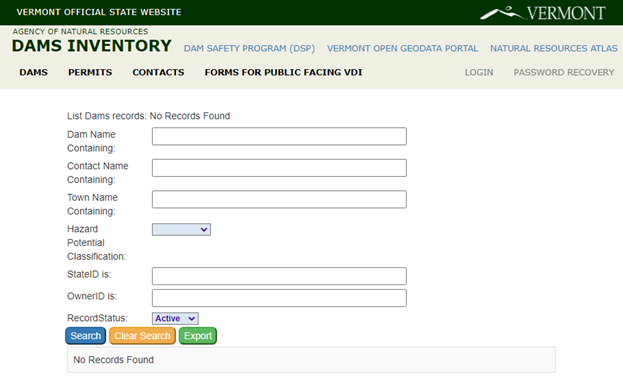 Search page within the Vermont Dam Inventory.