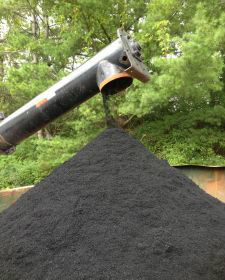 This program of the Waste Management and Prevention Division oversees the management of residuals, the semi-solid material that is produced as a byproduct of the treatment of industrial or municipal wastewater. Examples of residual materials include:
        -wastewater sludges
        -septage
        -short paper fiber
        -wood ashes
        -sludges generated during food processing
Approximately 8500-9000 dry tons of wastewater sludge is generated annually by Vermont's wastewater treatment facilties and the three primary options for final management of this material include:
land application as biosolids - wastewater sludge that has been treated to metals and pathogens standards established by the State of Vermont and the U.S. Environmental Protection Agency
landfill disposal - typically after dewatering; or
incineration - at an out-of-state solid waste facility (note that two regional facilities located in Glens Falls, NY and Fitchburg, MA closed)
For a broad overview of biosolids and septage management in Vermont, and of associated research, please see the Program's whitepaper  "Wastewater Treatment Sludge and Septage Management in Vermont" . This March 2017 version is an important update to the earlier posted version (September 2016).
To search a database of information pertaining to residuals permittees, including environmental monitoring data, visit the Wastewater Inventory Database.
For questions and/or assistance regarding residual management , please contact Ernie.Kelley@vermont.gov or Eamon.Twohig@vermont.gov.