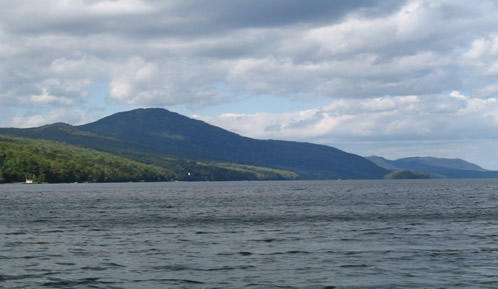 Basin 17 includes the Vermont portions of the St Francis River Watershed encompassing a total of 589 square miles between the Lake Memphremagog drainage and the Tomifobia and Coaticook River watersheds.  The Vermont portion of this basin includes the Black, Barton and Clyde Rivers and many lakes and ponds including Great and Little Hosmer Lakes, Lake Parker, Crystal Lake, Lake Willoughby, Island Pond, Great and Little Averill Ponds, Norton Pond, Holland Pond and Seymour Lake, along with many others.  
Phosphorus Total Maximum Daily Load (TMDL) and 2017 tactical basin plan
Lake Memphremagog is shared with the province of Quebec with a majority of lake in Quebec while the majority of the lakes watershed is in Vermont.  A lake model was developed for both the Quebec and Vermont watershed areas that determined that phosphorus must be reduced by a total of 29% from agricultural lands, developed lands, roads, as well as forest and wastewater treatment facilities to allow the lake to meet its water quality standard.  Public outreach on the modeling and TMDL development were completed over 2016 and the TMDL along with a proposed Wastewater treatment facility wasteload allocation has been released for public comment through June 16th.  The TMDL can be download here.  Additional information can be found at this Link to a Summary document about the Lake Memphremagog TMDL and a Link to the modeling documentation for the TMDL.
Along with TMDL the next iteration of the tactical basin plan for basin 17 which will act as the implementation plan for the Lake Memphremagog TMDL as well as address other water quality issues in the basin has also been released for public comment and can be downloaded at this link .  The tactical basin plan identifies targeted implementation actions based on water quality assessments to efficiently achieve necessary phosphorus reductions across the basin.  The Tactical Basin Plan also addresses other high-priority water pollution issues identified by watershed partners and municipalities during development of the plan. The central component of the plan is an implementation table summary with targeted actions to protect very high quality waters and to address the water quality issues in the basin.  A more detailed table with over 350 specific actions for the Lake Memphremagog, Tomifobia and Coaticook Basin that are proposed to be added to the watershed projects database can be downloaded here.
Citizens are encouraged to attend one of the following public hearings for a presentation and the opportunity to provide comments and suggestions on projects that impact the waters they enjoy: 
Monday, May 22: Newport
6:30pm at Emory Hebard Office Building, 100 Maine Street, Room 250
Tuesday, May 30: Brighton
7:00pm at Brighton Town Hall, 49 Mill Street Ext. 
Wednesday, May 31: Craftsbury
6:30pm at Sterling College, Common House, 16 Sterling Drive
Public comments on both of the plans will be accepted until close of business on June 16, 2017. 
Public comments can be directed to Ben Copans by e-mail or by mail at the following address:
ben.copans@vermont.gov  or (802) 751-2610.  
374 Emerson Falls Road, Suite 4
St. Johnsbury VT 05819
2012 Tactical Basin Plan
In 2012, the Basin 17 water quality management plan was approved with goals reduce nutrient enrichment and exotic invasive species and to improve aquatic habitat conditions.  In total 79 specific actions were identified in the plan to achieve these goals of which more than three quarters have been initiated or completed as of 2016 as can be seen in the report card at this link.  Some highlights include:
Illicit discharge detection and elimination study completed for all basin communities.
Stormwater master planning completed for Brighton, in progress across in other areas of the watershed.
Over 4 acres of buffer plantings completed across the watershed each year through the NorthWoods Stewardship Centers Trees for Streams program and 6 lakeshore buffer plantings.
 Rain garden instillation and rain barrel sales by the Memphremagog Watershed Association and numerous outreach events each summer.
Additional Resources