Clean Water Initiative Brown Bag Lecture Series
The Department of Environmental Conservation is hosting a monthly brown bag lecture series to inform stakeholders about the Vermont Clean Water Initiative. These lectures will focus on a different topic related to clean water activities every month. They are free and open to the public, both in person and online via webinar. 
2016-2017 Vermont Clean Water Initiative Brown Bag Schedule
All presentations are 11:00 am - noon in the Winooski Room at the Department of Environmental Conservation, 1 National Life Drive, Main 2, Montpelier,  unless otherwise noted. If you are planning to attend in person, please RSVP to anr.cleanwatervt@vermont.gov.  Click on the links below to attend remotely via Skype for Business or watch past Brown Bag Lectures on YouTube.
Brown Bag Lecture Live-Stream (via Skype for Business)
Watch Past Brown Bag Lectures (via YouTube)
September 8, 2016 - Updated Accepted Management Practices (AMPs) for Maintaining Water Quality on Logging Jobs in Vermont
October 13, 2016 - Local Implementation Teams for Clean Water
November 16, 2016, 9:00 am - noon at the State House, Room 11 - Long-Term Funding of Clean Water Improvements (Public Meeting)
December 8, 2016 - Stormwater Manual & Updates of Stormwater Regulations
January 12, 2017 - Municipal Roads General Permit Update
February 9, 2017 - New topic: Revised Vermont Water Quality Standards
March 9, 2017 - Agricultural Tile Drainage Update
April 13, 2017 - Rivers Projects and TMDL Implementation
May 11, 2017 - Wetlands Projects and TMDL Implementation
June 8, 2017 - Update on the Regional Conservation Partnership Programs (RCPP) in Vermont
2015-2016 Vermont Clean Initiative Brown Bag Schedule
---
Clean Water Roadmap Webinar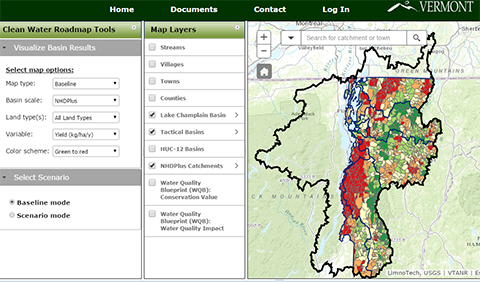 Imagine a web-based mapping tool that geographically shows and quantifies phosphorus sources by land use sector across the Lake Champlain Basin in Vermont. Sound too good to be true? It's not—meet the Clean Water Roadmap, developed with support from Keurig Green Mountain and The Nature Conservancy.
During this online presentation on Thursday, March 23rd, environmental consultants LimnoTech explained how to use this valuable tool, from selecting watersheds at various scales, to retrieving estimated phosphorus loads and yields across different land uses. Watch the presentation recording below.
---