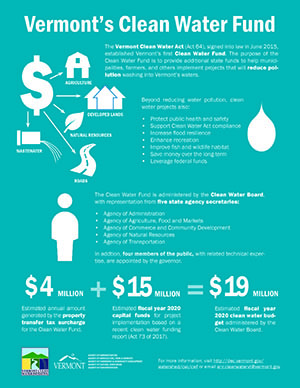 The Vermont Clean Water Fund was created by Act 64, also known as the Vermont Clean Water Act, which was passed by the legislature during the 2015 session and signed into law by Governor Shumlin on June 16, 2015. The law also established a Clean Water Board to administer the Fund. The purpose of the Clean Water Fund is to provide additional state funds to help municipalities, farmers and others implement actions that will reduce pollution washing into Vermont's rivers, streams, lakes, ponds and wetlands. The Fund is supported by a 0.2 percent surcharge on the property transfer tax on properties over $100,000. See the Clean Water Fund factsheet for more information.
The challenge now facing the state is how to develop a long-term funding solution for the Fund. See the webpage on developing long term clean water funding recommendations for more information. 
Public Participation Opportunities
Your participation in the Clean Water Fund budget process will help the Clean Water Board better understand public priorities for funding clean water improvements in Vermont's lakes, rivers, and wetlands. There are many opportunities to participate! For more information, please see the Clean Water Fund and You factsheet that outlines public participation opportunities, the Clean Water Fund budget process webpage, and upcoming Clean Water Board meetings (open to the public).
Help Inform Vermont's Clean Water Budget - Responses due July 31, 2018
The Clean Water Board is requesting public input on the state's fiscal year 2020 clean water funding priorities. Weigh in by completing this online questionnaire, open July 2nd – 31st.
To request a hard copy of the questionnaire, contact Bethany at bethany.sargent@vermont.gov or (802) 490-6131. Hard copy questionnaire responses must be postmarked by July 31st and mailed to:
Attention: Vermont Clean Water Initiative
Department of Environmental Conservation
1 National Life Drive, Main 2
Montpelier, VT 05620-3522
Join the Clean Water Conversation - July 12, 2018
Learn about the Clean Water Fund budget process and opportunities to provide input on next year's allocations through a Clean Water Conversation on July 12, 2018, 11:00 am - noon, in the Winooski Room, National Life Building in Montpelier. Attend in person (RSVP by email) or online (via Skype for Business). Clean Water Initiative Program staff are also available, by request, to attend partner meetings regionally to discuss this topic (contact Kari Dolan).
---
Clean Water Fund Board Reports
Vermont Clean Water Initiative Annual Investment Report
The Vermont Clean Water Initiative Annual Investment Report, prepared by the Vermont Secretary of Administration, is an annual report series summarizing state investments to address priority water quality problems across Vermont. 
Other Legislative Reports