Welcome to Tactical Basin Planning - Protecting and Restoring Surface Waters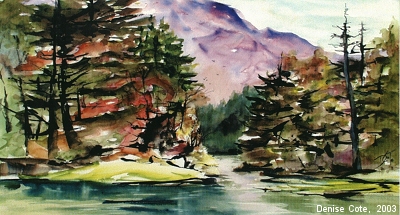 Watershed Planners are responsible for river and stream water quality and aquatic habitat assessments, municipal surface water protection assistance, and the Tactical Planning Process. Planners evaluate river and stream problems and threats; identifies special uses, values, and characteristics; catalyzes and supports watershed organizations and projects; provides funding and technical assistance to nonpoint source planning and implementation projects; and provides information and assistance to municipalities for local surface water protection. 
Tactical Basin Planning Tools:

Tactical basin plans focus on the projects or actions needed to protect or restore specific waters and identify appropriate funding sources to complete the work, based on monitoring and assessment data. Since these tactical plans will guide all watershed work supported by the Watershed Management Division, the issues identified in these plans are the ones that will be prioritized for management attention, including funding. Tactical Basin Plans integrate priority items from complementary plans, including River Corridor Plans, Stormwater Master Plans, Backroads Inventories, and Agricultural Environmental Assessments.
If you are aware of pollution run-off issues in your watershed, such as eroding dirt roads, poor culvert placements, stream or lakeshore erosion, clear-cutting, etc., it's important to let your watershed coordinator know, such that these can be evaluated for inclusion in tactical basin plans. If potential problems are not listed in these plans, they may not receive support from the Watershed Management Division.
Below is a map of Vermont's Watersheds with the name and contact of the Watershed Coordinator. Watershed Coordinators encourage public involvement and welcome input as they develop the tactical basin plans. To learn more, identify your area and Watershed Coordinator below.
Basin Contacts:
Click here for a map of Watershed Coordinator's regions and contact information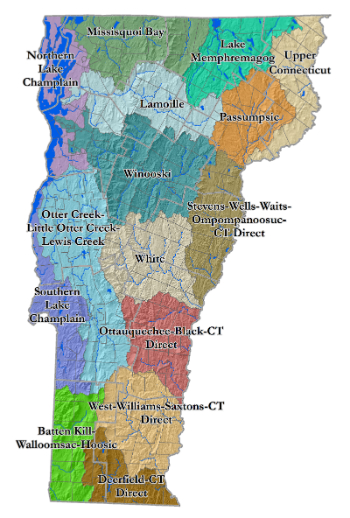 Hudson River Drainage Basin:
  Battenkill, Hoosic, Walloomsac
Lake Champlain Drainage Basin:
   Southern Lake Champlain *
   Otter, Little Otter, Lewis Creeks
   Northern Lake Champlain
   Missisquoi Bay  †
   Lamoille
   Winooski
Connecticut River Drainage Basin:
   White
   Ottauquechee, Black ‡
   West, Williams, Saxtons ‡
   Deerfield ‡
   Stevens, Wells, Waits, Ompompanoosuc §
   Passumpsic
   Upper Connecticut River
Lake Memphremagog Drainage Basin:
   Lake Memphremagog, Coaticook, Tomifobia
* Recently consolidated into one planning basin. Was previously addressed as two separate planning basins: Poultney-Mettawee basin and Lower Lake Champlain drainages.
†Mississqoui Bay planning basin now includes the Rock and Pike Rivers.
‡Now includes some adjacent CT River direct drainages that were part of the former Basin 13, which is no longer addressed as its own planning basin.
§ Now includes some adjacent CT River direct drainages that were previously addressed as part of the Upper Connecticut River planning basin.