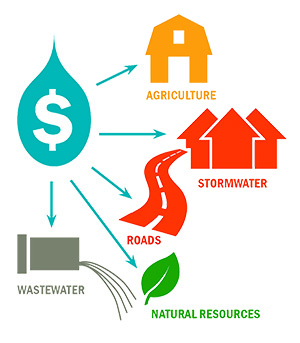 Vermont's clean water funding helps municipalities, farmers, and others implement projects that will reduce nutrient and sediment pollution from all sectors: agriculture; developed lands, including stormwater and roads; unstable streambanks and lakeshores; and wastewater. Clean water projects also protect public health and safety, support Clean Water Act compliance, increase flood resilience, enhance recreation, improve fish and wildlife habitat, save money over the long-term and leverage federal funds.
Vermont's clean water funding comprises Capital Funds and the Clean Water Fund with revenue from the Meals and Rooms Tax Allocation, Property Transfer Tax Surcharge and unclaimed bottle deposits.
Recommendations for how state Clean Water Funding is allocated are made by the Clean Water Board, with representation from five state agency secretaries: Administration; Agriculture, Food and Markets; Commerce and Community Development; Natural Resources; and Transportation. In addition, four members of the public are appointed by the Governor. 
For more information, view the clean water funding factsheet or contact Emily Bird, Clean Water Initaitive Program Manager.
State Fiscal Year 2021 Clean Water Budget Process
Public Comment Period July 22 - September 6, 2019

The image at right shows the year-long State Fiscal Year 2021 Clean Water Budget Process. The Clean Water Board is requesting public input on State Fiscal Year 2021 clean water funding priorities, July 22nd – September 6th.
To request a hard copy of the questionnaire, contact Jordyn Geller at (802) 490-6134. Hard copy questionnaire responses must be postmarked by September 6th and mailed to:
Attention: Vermont Clean Water Initiative
Department of Environmental Conservation
One National Life Drive, Main 2
Montpelier, VT 05620-3522
Participate the Clean Water Budget Public Hearing August 22, 2019
Learn more about clean water funding and the budget process and provide comments on the state's fiscal year 2021 clean water funding priorities. Come to the public hearing on Thursday, August 22nd at 10:00 am, in the Winooski Room, National Life Building, Montpelier and online (via Skype for Business). To attend in person, please RSVP by email.