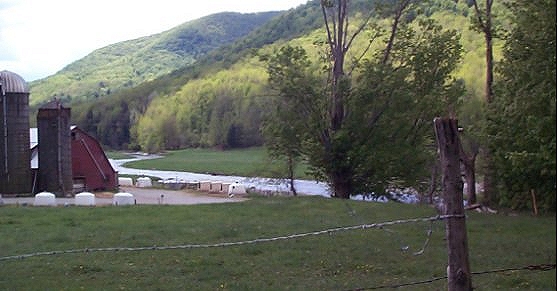 June 20, 2014: The South Lake Champlain Tactical Basin Plan is now available for use by stakeholders and the public.  
The Tactical Basin Planning process for the Southern Lake Champlain Basin (comprised of the Poultney and Mettowee Rivers, and the Lower Champlain Direct drainages) commenced in 2012 to identify water resource concerns as well as water quality improvement recommendations within the southern Lake Champlain Watershed in Addison and Rutland County, Vermont.  The goal of this tactical basin planning process (for more on the tactical basin planning process, please see Chapter 4 of the Statewide Surface Water Management Strategy) has been to produce a Southern Lake Champlain Watershed Improvement Plan, that identifies high priority actions for the protection and restoration of surface waters in this Basin. This new Tactical Basin Plan draws from previous efforts identified in the Poultney Mettowee Basin Plan (2005) and the South Lake Workplan (drafted in 2009 and updated in October of 2012).
Since 1998, the Poultney Mettowee Watershed Partnership has pursued the goals of assessment, prioritization, and project completion to produce effective returns. Most of these projects have focused on education and outreach, such as the Poultney Educational Trail, the Public Attitudes Survey of residents on water quality, storm-drain stenciling, and the Watershed Festival of 2001. The Partnership members represent watershed interests from various backgrounds including farmers, foresters, loggers, business owners, municipal officials, anglers, local watershed organizations, environmental groups, teachers, utility companies, regional planners, and slate quarry operations. The Watershed Partnership is guiding the development of the watershed plan and assist in the implementation of watershed restoration projects. The Watershed Partnership meets regularly to formulate a collaborative approach to resolving high priority water quality issues.
For more information concerning the Partnership or the water quality management plan for the Poultney-Mettowee watershed area, contact Angela Allen, Vermont DEC Watershed Coordinator.
Notice:
The Vermont Water Resources Panel requested DEC to refrain from submitting its petition for re-classification and water management typing affecting surface waters for the Poultney Mettowee Basin.  The rule for the typing and re-classification of waters in the Poultney and Mettowee River basins remains unsettled and has not been finalized.  The Vermont Agency of Natural Resources and DEC are working with the Water Resources Panel to arrive at a mutually agreeable approach towards water management typing which is science-based, sustainable and practical to implement and transparent to all interested and affected persons.
Basin Specific Reports 
Additional Resources