Vermont municipalities, regional organizations, nonprofit associations, citizen groups, and state agencies work together to get funds on the ground. See below for grant opportunities offered in partnership with the Clean Water Initiative Program, either by our block grant recipients or the Department of Fish & Wildlife.
---
Block Grant Recipient Requests for Proposals
NRCC Clean Water Projects Design and Implementation Block Grant
The State Natural Resources Conservation Council (NRCC), in partnership with Vermont's Conservation Districts, is requesting applications for projects under the 2019 NRCC Clean Water Projects Design and Implementation Block Grant. Eligible projects include clean water projects with a primary purpose of reducing sediment and/or nutrient pollution to surface waters throughout Vermont. This initiative will involve the design and implementation of many small-scale projects throughout the state. Project types include the preliminary and final engineering design as well as implementation of rivers, lake shoreland, stormwater, and forestry projects. Fifty percent or more of total funding will be awarded to projects with a cost of $20,000 or less, not including match and administrative fees. No match is required for applications. Initial applications are due November 22, 2019. Additional rounds of funding will follow after the initial applications are processed. For more information, visit the VACD website or contact Holden Sparacino or your local Conservation District. 
WUV Design and Implementation Block Grant
Watersheds United Vermont (WUV) received a Vermont Department of Environmental Conservation (DEC) Design and Implementation Block Grant to distribute $500,000 to watershed groups and partners for design and implementation of clean water projects over the next two years. All project work and reporting must be complete by October 31, 2021. At least 50% of the Block Grant funds ($250,000) must be used for projects under $20,000. Block Grant funds are for projects that primarily reduce nutrient and/or sediment pollution. A project may reduce other pollutants such as bacteria or chloride and/or provide other water quality benefits, but only if they are secondary benefits. WUV and the White River Partnership (WRP) will jointly administer this Design and Implementation Block Grant. For projects under $20,000, there is a rolling due date for both pre-applications and applications. For projects over $20,000, pre-applications are due November 12, 2019 and full applications are due December 3, 2019. Another round may be available in early 2020 if funds allow. For more information, and visit the WUV website or contact Lyn Munno or Christian Pelletier
SWCRPC Design/Implementation Block Grant
The Southern Windsor County Regional Planning Commission (SWCRPC) was recently awarded $1,500,000 from the Department of Environmental Conservation (DEC) to support statewide partners in implementing the design and construction of clean water improvement projects as identified in the DEC Watershed Projects Database. Eligible projects will reduce sedimentation and nutrient loading to surface waters. This grant program does not require local match. The first round was announced on October 22, 2019. Applications are due December 10, 2019. For more information, visit the Southern Windsor County Regional Planning Commission website or contact Cindy Ingersoll or Chris Yurek at 802-674-9201.
---
Vermont Watershed Grants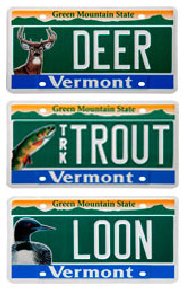 Vermonters have an opportunity to protect and restore watersheds through the Vermont Watershed Grants Program. Half of the proceeds derived from the sale of the Vermont Conservation License Plate go towards funding the Vermont Watershed Grants Program. The Program, co-administered by DEC and the Department of Fish and Wildlife, distributes grant dollars for noteworthy local and regional water-related projects within Vermont. The other half of proceeds derived from the Conservation License Plate go towards helping the Vermont Non-Game and Natural Heritage Program.
Persons can join our new mailing list to receive future announcements about the Watershed Grants Program. When you sign up to register, simply select "Watershed Grant Program announcements."
 
Grant funds are available for water-related projects that: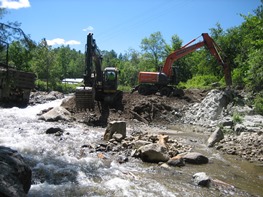 Protect or restore fish and wildlife habitats
Protect or restore water quality, and shorelines;
Reduce phosphorus loading and/or sedimentation as part of DEC's Clean Water Initiative objectives;
Enhance recreational use and enjoyment;
Identify and protect historic and cultural resources;
Educate people about watershed resources; or
Monitor fish and wildlife populations and/or water quality.
Who May Apply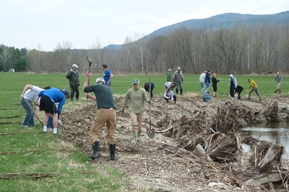 Municipalities, local or regional governmental agencies, nonprofit organizations, and citizen groups are eligible to receive Watershed Grants for work on public or private lands. Individuals and state and federal agencies are not eligible to receive funds directly but may be partners of a project. 
Funding Categories
Watershed Grant: 
Awards made up to $10,000, depending on project category type. Category types and the maximum grant amount for each project category type are as follows:
Education and outreach – up to $5,000
Planning, assessment, inventory, monitoring – up to $3,500
On-the-ground implementation – up to $10,000
Watershed Grants Program dollars are intended for complete projects or for discreet, identifiable portions of larger projects. 
Application Information 
Grant awards are made on an annual cycle, with applications due in the fall of the year and funding decisions made the following mid-winter.
The 2020 Project Year grant application deadline is February 7, 2020. Persons interested in applying should consult and use the 2020 project year forms shown below. 
Completed applications should be emailed to william.eldridge@vermont.gov with "2020 Watershed Grant Application" in the subject line.
A copy of the Grant Application Guide and the Grant Application may also be requested by contacting Will Eldridge at (802) 485-7566. 
For information about administering and reporting on grants, please see the Administrative Guide.