Why Recycle? It is a simple way to take care of Vermont. It preserves natural resources and reduces energy demand. Making recyclables into new products is cheaper than putting them in the landfill and creates jobs. 
---
1. There are six materials that must be recycled statewide.
Have these recyclables picked up curbside or drop them off at a transfer station or recycling center.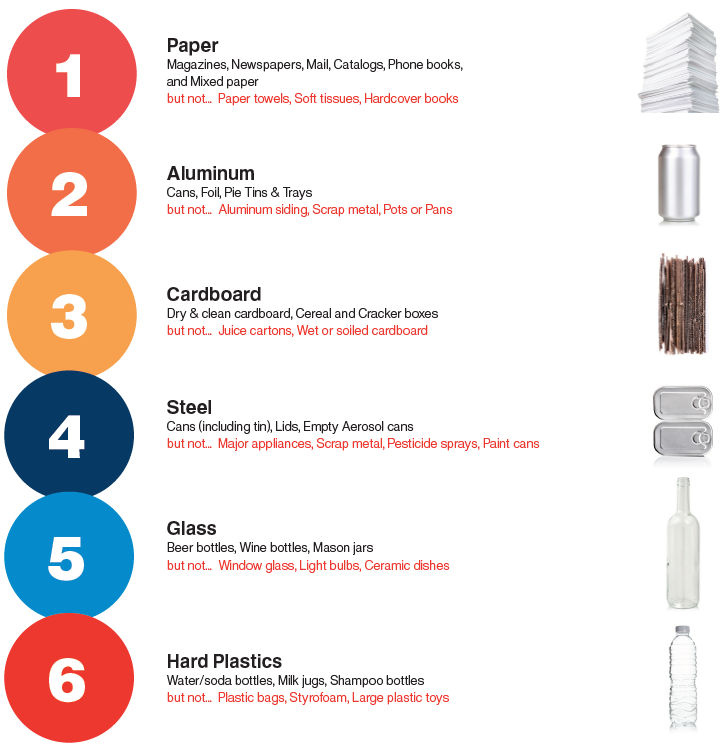 2. Ask your hauler, district, or town what else you can recycle. 
You may be able to recycle other items in your town. Contact your waste district or town or hauler to learn more. Find transfer stations or recycling centers near you using the Materials Management Map. Explore this website to learn more about state-wide recycling programs for other materials, like electronics and paint.
3. Learn the blue bin recycling DOs and DON'Ts
Do rinse recyclable containers clean. They don't have to be perfect—just free of most residue.
Do breakdown and fold large cardboard boxes.
Don't put anything smaller than two inches on two sides in your recycling bin. 
Don't place plastic bags in the recycling bin. Bags clog up the sorting machines.
Don't put anything with leftover food on it in the recycling. 
Don't place styrofoam in the recycling. Vermont recycling facilities don't accept styrofoam. 
Have questions?