March 12, 2019
MONTPELIER, Vt. – The Department of Environmental Conservation (DEC) just announced its Spring 2019 Clean Water Lectures series schedule. The lecture series is open to the public and offers a glimpse into DEC's clean water efforts to protect public health; support fishing, swimming, boating, and other recreational uses; and provide critical wildlife habitat.  
The four upcoming lectures, held in Montpelier and via Skype, will cover a variety of water quality topics. Attendees can learn about the recent clean water projects related to Vermont's Clean Water Act, including new tools for tactical basin planning, innovative natural resources restoration financing, new stormwater regulations, and lake monitoring and assessment. 
"I try to attend DEC's Clean Water Lecture Series whenever my schedule allows," said Milly Archer, Water Resources Coordinator of Vermont League of Cities and Towns. "The presentations are interesting and provide a deeper dive into subjects that are helpful for my work with VLCT and often highlight important issues and opportunities that I can pass on to our members."  
The date, location, and topic for each lecture are listed below:  
Thursday, March 14 | Immerse Yourself in Vermont's River Basins Through Story Maps 
Everyone has a story to tell – so do Vermont's river basins. Join Basin Planner Danielle Owczarski in the Winooski Room at National Life (M240) in Montpelier from 11:00 am - 12:00 pm to learn about Vermont's river basins and their restoration and protection plans through Esri Story Maps. Danielle will also highlight new tools available through the state's online Clean Water Portal and introduce an interactive map in development that will display clean water project opportunities that have been identified and prioritized through the tactical basin planning process.   
Thursday, April 11 | WISPr, It's Louder Than It Sounds: Millions of Dollars Available for Natural Resources Restoration
Terisa Thomas and Ashley Lucht with DEC's Water Infrastructure Financing Program will discuss a new funding mechanism for natural resources restoration projects through the Water Infrastructure Sponsorship Program (WISPr). This lecture will be in the Catamount Room (N215) at the National Life Building in Montpelier from 11:00 am - 12:00 pm.  
Thursday, May 9 | Stormwater Update: What You Need to Know About the New 3-Acre General Permit
Padraic Monks with DEC's Stormwater Program will offer details about this upcoming permit, which will require sites with three or more acres of paved surfaces that lack a stormwater permit to treat their stormwater runoff. This lecture will be in the Winooski Room (M240) at the National Life Building in Montpelier from 11:00 am - 12:00 pm.  
Thursday, June 13 | Lake Score Cards Highlight Restoration Progress and Protection Needs 
Hear from DEC Lakes and Ponds Program Environmental Scientist Leslie Matthews as she reviews the lake score card, a user-friendly interface developed by the Vermont Lakes and Ponds Management and Protection Program (VLPP). Leslie will also share available data on the overall health of Vermont's lakes. This lecture will be in the Winooski Room (M240) at the National Life Building in Montpelier from 11:00 am - 12:00 pm   
The Clean Water Lecture Series is open to all. Anyone who is interested can join in person or online via https://tiny.cc/lecture-series. To attend in person, please RSVP to anr.cleanwatervt@vermont.gov. For more information on Clean Water Lecture Series, or the upcoming presentations, visit the Clean Water Initiative Program website at https://dec.vermont.gov/watershed/cwi.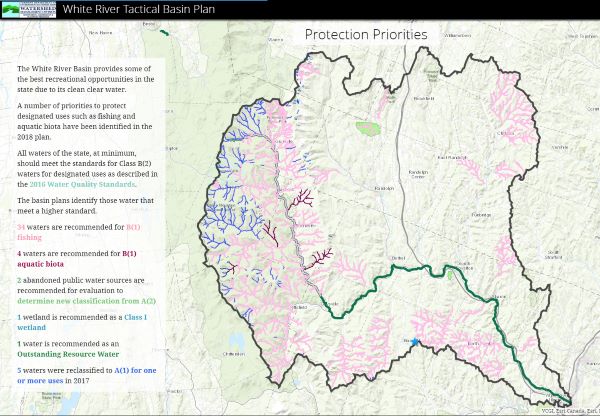 A snapshot of the White River Tactical Basin's Story Map.