Vermont's Pollution Prevention Planning Law
Vermont's Pollution Prevention Planning law (Act 100), passed by the legislature in 1991, requires businesses that exceed certain thresholds to complete pollution prevention plans, submit annual progress reports that describe progress made toward reduction goals established in the plan, and to submit annual fees.
The intent of the program is to encourage reduction of toxic substances and reduce the generation of hazardous waste whenever technically and economically practicable, without shifting risks from one part of a process, environmental medium or product to another. The specific goals of the program are to (1) eliminate, or reduce the use of hazardous, particularly toxic, materials wherever feasible; (2) reduce the generation of hazardous waste; (3) reduce the release into the environment of chemical contaminants which have adverse and serious health or environmental effects; and (4) document hazardous waste reduction and toxics use reduction information and make that information available to State and local government and the public.
To achieve the stated goals, the law requires certain facilities to develop a plan for toxics use reduction and/or hazardous waste reduction or generation of hazardous waste. Implementation of reduction plans is not required by the law, however the act of going through the planning process alone is an important exercise that provides the facility with a picture of their own toxics use and waste generation and ways to reduce these materials, and often leads to changes by implementing the plan.
Pollution Prevention Planning Law on Vermont Statutes Online: 10 V.S.A. Sections 6623-6632
---
Vermont Pollution Prevention Planners have implemented pollution prevention projects resulting in reductions of 16 million pounds of hazardous waste and 9 million pounds of toxics.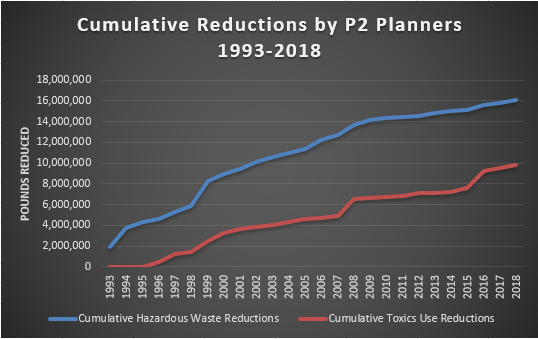 ---
The Planning Process
The purpose of Pollution Prevention (P2) Planning is to identify opportunities to reduce or eliminate the generation of hazardous waste and the use of toxic chemicals at the source rather than treating or controlling these materials after they have been created or used.
The Pollution Prevention Program has prepared a series of worksheets with instructions to assist businesses that are subject to the law with the development of a P2 Plan. Businesses that are subject to planning must also file an Annual Progress Report on Pollution Prevention. Copies of both the Pollution Prevention Planning Guidance, which includes the worksheets that make up a plan, and Annual Progress Reporting forms are available for download here.
Who Needs to Plan?
The law requires businesses that generate greater than 2,640 pounds per year of hazardous waste, or manufacturers (SIC Codes 20-39) that use 1,000 pounds or more per year of certain chemicals (EPA Toxic Release Inventory listed chemicals, see SARA Title III, Section 313 ), to prepare plans to reduce the generation and/or use of these materials.
The Pollution Prevention (P2) Program is responsible for overseeing the planning law and assisting companies with the development of Pollution Prevention Plans and completion of Annual Progress Reports. P2 Program staff also offer technical assistance services to companies that want to reduce their generation of hazardous and solid waste and use of toxic chemicals.