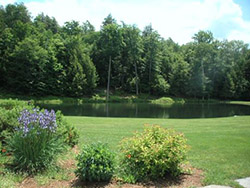 Private ponds are owned by one person or entity and located entirely on the owner's property.  If natural, they may be up to 20 acres in size or artificial, of any size.  Vermont has hundreds of small ponds, many of which provide great habitat for plants, animals, and people.
Private ponds can be stocked at the owner's expense with artificially hatched or reared fish, provided that the sources of water supply for the pond are entirely upon the owner's premises or that fish do not have access to the pond from waters not under the owner's control or from waters stocked at the expense of the state (defined in 10 V.S.A. Section 5210).
If you are interested in using a chemical to control a weed or algae problem in your pond, please contact the Aquatic Nuisance Control Permit Program.
Additional Resources
What You Should Know About Constructing a Pond or Dam
Lake Wise - Tips for healthy waters for shoreland owners.
Information on Controlling Nuisance Aquatic Plants and Algae
What are Algae?
A key to common Vermont aquatic plant species
Aquatic Nuisance Control Permit Program
Aquatic Plant Management Contractors
Cleaning of constructed ponds
Other Resources for Small Pond Management
For more information, contact Perry Thomas.