Application Process
In accordance with the DEC Permit Expediting Procedure, the standard review times for given categories of applications are as follows:
Pesticides and chemicals other than pesticides: 180 days
Bottom barriers and powered mechanical devices: 75 days
Structural controls and biological controls: 180 days
Application Forms and Fees
An application form, all required support materials, and the application fee must be submitted for your application to be deemed complete. Municipalities and the Agency of Natural Resources are exempt from the application fee. Checks should be made payable to the State of Vermont.
The appropriate application fees, effective July 1, 2014 pursuant to 3 V.S.A. Section 2822(j), are listed below. All application forms are revised periodically, so please be certain to use the most up to date forms. 
Aquatic Nuisance Control Permit Fees

| Permitted Activity | Private Waters Fees | All Other Waters Fees |
| --- | --- | --- |
| Bottom Barrier | $35 | $75 |
| Biological Control | $75 | $300 |
| Structural Controls | $75 | $300 |
| Powered Mechanical Device | $35 | $175 |
| Aquashade & Copper Compound Algacides | $50 | $500 |
| All Other Chemicals & Pesticides | $75 | $500 |
| Approval under General Permit | $25 | $50 |
Permit Application Forms
Pesticides
Chemicals other than Pesticides
Bottom barriers
Powered mechanical devices
Structural Controls
Biological Controls
Adjoining Property Owner Notification Instructions
*Private Ponds: natural ponds not more than 20 acres in size or artificial ponds of any size, owned by one person and located entirely on the owner's property, and stocked at the owner's expense with fish artificially hatched or reared, provided that the sources of water supply for the pond are entirely upon the owner's premises or that fish do not have access to the pond from waters not under the owner's control or from waters stocked at the expense of the state (defined in 10 V.S.A. Section 5210). If you believe your pond is private, please provide documentation with your permit application. 
***
As of January 1, 2018, the State of Vermont requires that applicants applying for an Aquatic Nuisance Control Permit provide notice to adjoining landowners 
(
10 V.S.A. § 7701 et seq
) 
As a part of submitting an administratively complete Aquatic Nuisance Control Permit application, the applicant and/or their representative must provide notice to adjoining property owners at the same time the application is submitted (10 V.S.A. § 7701 et seq). The applicant must certify on the application that notifying adjoining property owners has been completed prior to application submittal.
If the project is considered large and complex, additional notification requirements apply. Contact a permit specialist or analyst for additional information.
Use of either the OFFICIAL NOTICE letter or postcard is required to be sent by U.S. Mail to notify an adjoining property owner. Note: Permit application materials are not required to be sent with this notice.
An Adjoining Property Owner Notice for each type of Aquatic Nuisance Control Individual Permit application is required as follows: 
| | |
| --- | --- |
| Aquatic Nuisance Control Permits | Adjoining Property Owners to be Notified |
| Non-chemical lake or lake section-wide control project (e.g. suction harvesting, mechanical harvesting, etc.) | Any property owner that abuts that lake, lake section, or surface water where the proposed activity may occur. |
| Non-chemical control project proposed to be in a specific location (e.g. bottom barriers at a public access area) | Any property owners that may potentially be affected by a decision on the application, including but not limited to the terrestrial boundaries nearest to the proposed project. |
| Pesticide or chemicals other than pesticides | Any property owner that abuts that lake, lake section, or surface water where the proposed activity may occur. In addition, property owners that abut the surface water receiving effluent that may potentially be affected by a decision on the application. |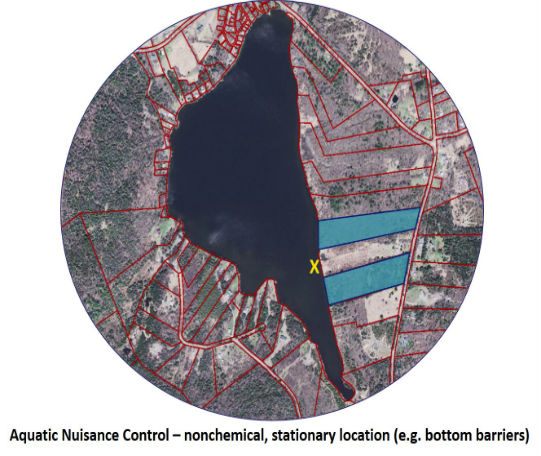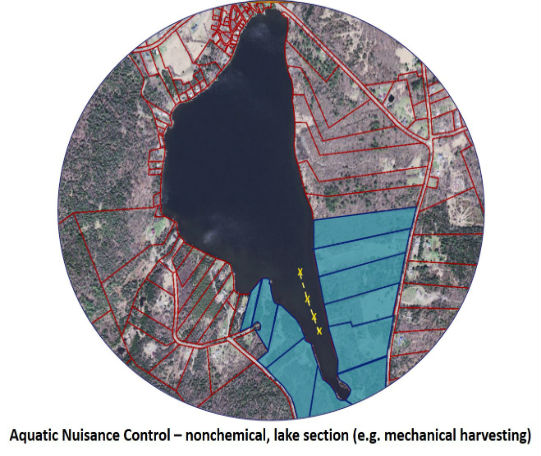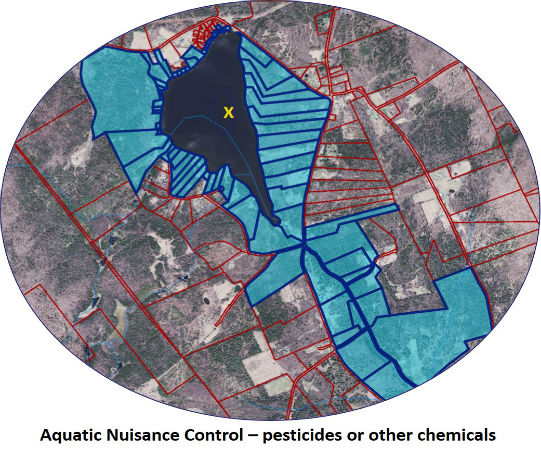 Aquatic Nuisance Control Projects (identified by the yellow X in the images above) must notify adjoing property owners shown in blue. This is only an example. It is the Applicant's responsibility to ensure that all potentially affected surrounding landowners are notified.
Adding Permittees
All new Decision-makers or Operators to an authorized activity must become a permittee. To do so, submit the Notice of Addition Form
Requests for Permit Modifications
Requests for modifications to an existing Aquatic Nuisance Control Permit are determined by the DEC to be either minor or major. Minor modifications are typically a change to some detail contained in a permit condition. They do not require a review of the findings of the permit. Major modifications typically require the ANC Program to revisit one or more of the findings required for that control activity to assure that the finding can still be made. A minor modification request should be made by the permit holder in the form of a letter addressed to the ANC Program. A major modification request should be submitted by the permit holder by completing an appropriate permit application form for the control activity and submitting the application to the ANC Program. The appropriate application fee must accompany the application form. Major modifications are subject to public notice. 
Permit Duration
By statute, permits for pesticide use or chemicals other than pesticides may be issued for up to five (5) years. Permits for bottom barriers, powered mechanical devices, structural controls, or biological controls may be issued for up to ten (10) years.