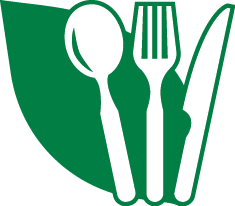 The Green Restaurant designation recognizes Vermont's Environmental Leaders in the dining sector. The program Standards require that best management practices be achieved in energy efficiency, water and waste reduction, recycling, purchasing, and operations.  Technical assistance is provided in an on-site visit to help identify best management practices and with completing the application process.
Program Benefits Include:
• Customer, community, and statewide recognition
• Free and confidential technical assistance
• Cost savings from energy and water conservation
• Brand association with environmental stewardship
Sign Up in 3 Easy Steps:
1. Satisfy requirements of program prerequisite checklist
2. Complete walk-through assessment with Program Coordinator
3. Submit program application for approval
Once a member, businesses are kept abreast of new practices and products, savings opportunities, and seminars or other notable events through emails.
To become a Green Restaurant, please email us or call us at 802-254-3636.