A Program of the:
                   
---
Green Hotels in the Green Mountain State is an Environmental Leader sector of the Vermont Business Environmental Partnership, a joint venture of the Vermont Department of Environmental Conservation and the Vermont Small Business Assistance Center. The Green Hotel designation reflects a commitment to pollution prevention and exemplary environmental stewardship.
Start the process by requesting the free on-site environmental opportunities assessment provided by Vermont Business Environmental Partnership representative, by contacting Maura Mancini at maura.mancini@vermont.gov. It is best if you fill out the Environmental Partner Achievement Workbook prior to the visit.
During the visit and after, the representative will help with filling out the application and provide recommendations for meeting the standards.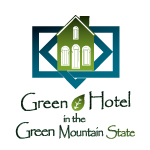 Benefits of Program Participation
Profit from increased resource efficiency and reduced waste disposal costs.
Free region-wide marketing of your business as an environmental leader. For a small sum, your business can be included in a Green Hotel and Green Restaurant interstate rest area card (3500 copies distributed).
Free technical assistance.
Gain increased market share from environmentally conscious guests.
Develop and strengthen guest loyalty by being involved with "greening" efforts.
Peace of mind knowing your business is doing its part to preserve Vermont's environment