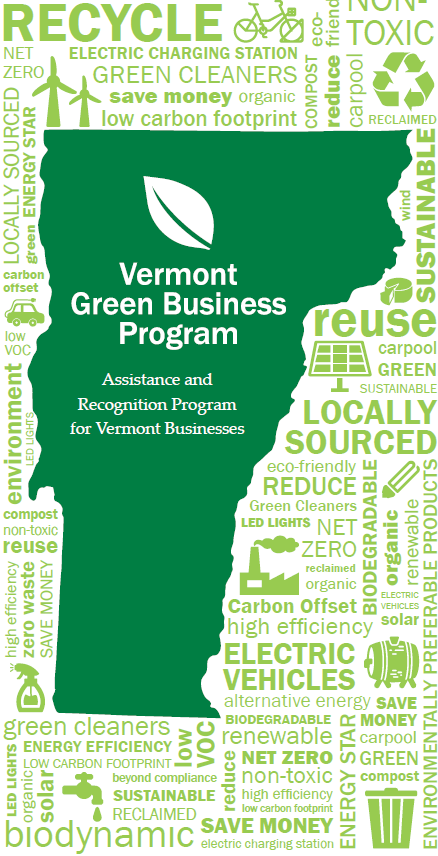 The Vermont Green Business Program  (VT GBP) is a NO-COST, voluntary, environmental assistance and business recognition program that is run by the Environmental Assistance Office (EAO)  in partnership with the  Northeast Recycling Council (NERC).  In addition, NERC is working with the Vermont Businesses for Social Responsibility (VBSR) and the Vermont Sustainable Jobs Fund (VSJF) to further support the VT GBP. The goal of the program is to promote improved environmental and economic performance and to enhance public recognition of environmental excellence. Members are committed to go beyond compliance with existing environmental regulations using pollution prevention strategies and implementation of best management practices.
Businesses that want to communicate their environmental ethic and back it up in action and deed are encouraged to join the Program.  The VTGBP includes five industry-specific Programs: Vermont Green Hotels, Vermont Green Restaurants, Vermont Clean Marinas, Vermont Green Links, and Vermont Green Grocery Environmental Leader.  These sectors have industry specific best management environmental practices that are recognized nationally or often globally.  Businesses must achieve a set of environmental standards and select from a set of best environmental management practices to be accepted into the program. In addition, there is a Vermont Green Business designation for all other business sectors. 
---
Sample Environmental & EPP Policy Statement
 _____________________________________(add your company name) is committed to protecting the environment, the health and safety of our employees, and the community in which we conduct our business. It is our policy to seek continual improvement throughout our business operations, to lessen our impact on the local and global environment by conserving energy, water, and other natural resources.  NERC accomplishes this by reducing waste generation, reuse, recycling and reducing our use of toxic materials. We are committed to environmental excellence and pollution prevention, meeting or exceeding all environmental regulatory requirements, as well as purchasing products which have greater recycled content with lower toxicity and packaging, and reducing the use of natural resources.
---
For Vermont Green Business Program inquiries, please email us or call us at 802-254-3636.
---